There is no one-word answer to this question, can an adult woman ride a 24-inch bike? Yes, you can ride it as long as it fits you but it won't be that comfortable as is designed for kids.
For female cyclists, trying to find a bicycle that perfectly suits your body style can be a difficult process in the best of times. But, for those of below-average stature, this task can begin to feel impossible.
If your height tops out below the 5 foot mark, you've probably experienced this first hand. Bikes made for taller people have pedals that you can barely touch with your toes, and gripping the handlebars requires leaning forward until you're practically out of the seat.
When typical adult options fail to meet your needs, you naturally move to the next likely option: children's bikes. A 24 inch bike, at the upper end of bike sizes for kids, can potentially serve as a fine ride for an adult woman. However, there is far more to consider than a single measurement when making this choice.
Understanding Bike Sizes
First, it's worth clarifying how bike sizes are determined. Road bikes, mountain bikes, and bikes for children all use different points of measurement.
The situation can be further complicated by an individual manufacturer's decision to size their bikes in a non-standard fashion, but in general, sizes are present in the following ways:
Road bikes represent their frame size with the measurement of the top tube, given in centimeters. This part of the frame runs from the seat tube to the handlebars.
Mountain bikes are typically measured based on the height of the seat tube, which runs from the bottom bracket of the frame, up to the seat post.
Children's bikes are sized based on wheel diameter, and, unlike the other two, this measurement is given in inches. Each of these measurements is only really useful for determining a single dimension of fit.
A mountain bike's sizing is mostly concerned with height, as this is necessary to provide adequate standover height to accommodate the out-of-seat riding style used in off-road riding.
Road bikes, conversely, are proportioned to emphasize the rider's reach and posture while seated. The emphasis is on comfort and economy over long distances.
Children's bikes are simply meant to be small enough for kids to control safely.
When determining fit, wheel size only influences whether someone of a particular height will be able to reach the ground with their feet from the seat.
Most manufacturers offer fit charts that go beyond this single-point measurement, and use a rider's inseam as the determining factor. For instance, a 24 inch bike is suggested for someone with a 23"-29" inseam.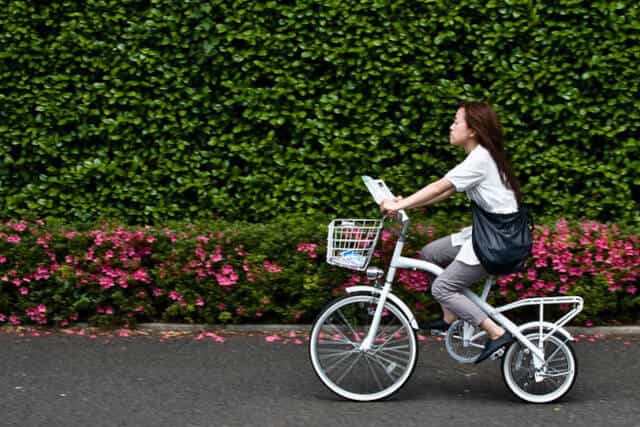 What Do Women Need In A 24 Inch Bike?
It's a common misconception among many cyclists that there is no need to design bikes for women particularly. Some manufacturers simply paint a bike pink and shrink it a little, and call it a woman's bike.
These mindsets contribute to the difficulty small-statured women have in finding a bike for them.
Women are naturally smaller than men, not only in height but in several areas important to bike design. They have, on average:
Lower crotch height
Lower sitting height
Lower weight
Narrower shoulders
Shorter shoulder-to-grip distance
Shorter, narrower hands and feet
Wider hips
These measurements translate directly into bicycle features. Bikes ideal for women will have:
Shorter seat posts or seat tubes
Lighter frames
Lighter suspension
Narrower handlebars
Smaller grips
Shorter top tubes
Shorter cranks
Narrower pedals
As you can see, if all you know about a bike is that it has 24 inch tires, you can't possibly determine if it's suitable for an adult woman to ride. To get that answer, you have to check the bike against this list of features.
Pros And Cons of Using a 24 Inch Bike For Adult
The typical 24-inch bike will have several features more suited to an adult female than an adult male. Naturally, because they are sized for children, they will have lighter frames and smaller, narrower components.
These bikes are typically rated for riders of heights ranging between 4'5"-4'9" (135-145 cm) but can be extended up to 5'2″. So women of this height range can ride them, but they may not be able to do so comfortably mainly because of the narrower seats and handlebar.
Children's bikes are made for the proportions of young people, and even though an adult may share a young person's height, they will likely have different proportions.
Women, with their wider hips, will find it uncomfortable to sit on the narrow seats.
Additionally, kids' bikes often feature much lower seats to allow a beginning rider to place their feet flat on the ground while seated. For an adult rider or even an experienced child rider, this will lead to cramped, uncomfortable riding experience.
With narrower handlebars, you can find it hard to handle on rough terrain and the narrower seats make it hard for you to enjoy cycling for long. Not to mention the frame is prone to break if applied more pressure.
But that does not mean you can not or should not ride it, in fact, many women struggling with height modify these kid's bike to best suit their needs to make it more comfortable and fun to ride.
While some get help in finding the best 24-inch adult bike that not just cater to their needs but are safe and comfortable to ride with a stronger frame, wider handlebars, and bigger seats.
Finding Bikes for Short People
Clearly, even a 24-inch bike does not provide a one size fits all solution for shorter adult riders. Even though they may meet the concerns of height, other proportions require different solutions in a bike's frame geometry.
The easiest way to find the bike size is just right for your height is by standing over. It's simple if your feet touch the ground when standing over the frame, then you can ride it.
In short go for the 24 inch bikes if you need to but not 24 inch bike made for kids but 24 inch bikes made for adults. Yes there are few brands that made bikes for shorter people.
If you are of shorter stature, and in the market for a bike, look for one offering these particular features.
Lower Seat Height. Even if you can mount a bike, if you find you have to over-extend your legs to pedal, the seat is too high. Low seat height can make the tire size less meaningful, as you are no longer depending entirely on them to control your sitting height.
Lower, Closer Handlebars. This follows the same principle as the seat. Reach is variable, but on average, shorter people have much shorter arms. Choose a bicycle that doesn't have you stretching to reach the grips.
Step-through Frame. This innovation is particularly useful for those with shorter legs. The step-through frame lowers the top tube or eliminates it altogether so that you don't have to raise your legs over a high bar to mount your bike.
Smaller Tires. Large-diameter tires are problematic for short riders for reasons other than height. They are heavier and less maneuverable for someone with shorter arms, especially from a lower seat position.
Smaller tires avoid this problem and allow a small rider to have the same "seat-to-height" ratio with the handlebars that a larger rider would have.
3 Best Bicycles For Short Women
A budget bike for shorter woman. Its looks good and feels nice.
Great for joy! These powerful bikes is good for speed thrill.
Designed for woman bellow 5″ it can take weight up to 150 lbs.
Is it safe for a woman to ride a 24-inch bike?
In its most raw form a 24 inch bike is not safe for adult woman no matter the height. Built for kids these bikes are not compatible for adult woman and are thus are less safer.
But having a less safe 24 inch bike is sometimes better than using an over sized bike that is more extreme on height, handlebar and ease of use and thus are most uncomfortable.
On most time you would be required to raise the saddle to fit for your height or move it back depending on the height of the handlebars.
Your knee needs to bend slightly when riding a bike or else you knees will start to hurt.
So either go with a bike frame with longer handlebars or replace with a new one instead. Adjust your saddle position and install a new bigger saddle for your hip.
Only then it can be safe enough to ride for long distance without negative issues like lack of control, numbness, pain or simply difficulty riding. Make your 24 inch bike a little more safer before using.
Conclusion
Finding a bike that fits perfectly as-is is always going to be a case of trial and error. Even if you shop for a bike that has all the right measurements on paper, when it arrives it may not yield a comfortable ride.
Before you give up on a bike, make sure to adjust what you can first. Seat height is almost always adjustable within a certain range. If you like a frame but the wheels are too large, it may be feasible to try a smaller set.
Shorter cranks can allow you to pedal — along with smaller pedals. If the grips are too thick, see if they are replaceable. Seat too narrow? Swap in one that suits you.
Customization is a part of the cycling culture, and while taller riders have the luxury of doing it for fun, shorter riders can make the adjustments that are necessary for them to ride.
Yet, there is also a growing number of manufacturers who are aware of the plight of shorter riders. They are offering their bikes with all the features above, and their sizes come in smaller increments so that you can more closely tailor them to your individual needs.
Also Read,
Can You Ride A Bike On The Sidewalk?
26 Inch Bike For What size Person? Bicycle Size Guide
Women's Bike Size Chart – Finding The Right Bike Frame Size