You have seen a cyclist commuting to work on your drive into work and wonder how did he manage to do all that? Perhaps it has crossed your mind can you too go biking to work; when it's good for your health, finance and overall well being of the environment.
But despite all those obvious reasons to start biking to work; you feel it overwhelming to hop on a bicycle and commute for the first time.
In the ideal world of bicycle commuters, you would have the luxury of dedicated bicycle lanes right to your office. But unfortunately, we are talking of reality where to find a bicycle lane on to work is a blessing. But don't worry as I am here to help get you rolling with my 7 easy tips to get started.
1. Keep Your Plans Achievable
If you are new to commuting you should not make big plans. Yes, there are so many opportunities in store for you, but let the progress be slow and steady. Having grand plans to commute is good but its the achievable goals that really matters and keeps you motivated.
Begin with an achievable goal to commute just once in a week; that too on your preferred day in a week. If you feel comfortable commuting and consistent then add more days to your routine. Proceed gradually to your goal of commuting daily to your workspace, so it's easy on yourself to be consistent.
If you have several miles in lines to work; consider asking your friend or a co-worker for hitching and return back home commuting. Don't worry about what they would say; many times asking politely does wonder and you never know without asking if the next person is looking for a company on the drive to work.
Read Also: How Long Does It Take To Bike 20 Miles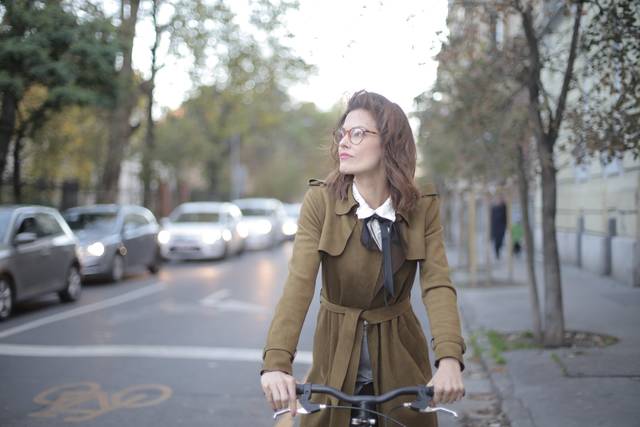 2. Better Practice Cycling
Before you hit on roads for your first journey biking to work; it's better you practice cycling at your backyard or some quiet street nearby. Many of us have tried cycling as a kid or teen, but its a while since we last cycle after college or simply joining a regular job.
Further, you should always be comfortable with your bike before riding around town. Take some time to practice, try some range of motion riding on a calm street, and be comfortable riding a bike again. Cycling is among one of those things you never forget and thus require just a mild practice.
3. Biking To Work: You Better Plan Your Route
The shortest path on road is not always the best one. If you get more dedicated bike lanes / tracks following a longer route; it is much better than going through the busy traffic. Although I personally go for the shortest path; considering its your first time commuting to work you should not go with the same.
Take some time the day before to look for the quiet streets, bicycle lanes and canals to analyze what could be the best route possible balancing both ease of travel and time.
For further help in the process, you may also try various services like bicycle route planner that helps you ride away from busy traffic. One such recommendation is the "Bike Map" application that plans your track and helps navigate worldwide. You can get it here on Google Play store and Over here on the Apple app store.
Read Also: Why Fixed Gear Bikes Are Good For Commuting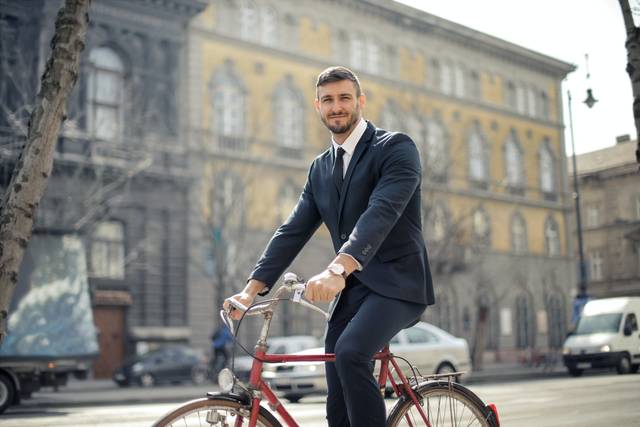 4. Do Not Stress About Clothes
Yo do sweat and your clothes too may get a little untidy commuting; but it does not mean you should give up on your goal biking to work because of some stress about clothes, hi-gene or sweat. It's just part of whole biking experience that everyone faces and find one's own solution.
Ideally, commuters like to take shower at their office before getting dressed up in their work clothes. But that too is not always the case as there are many who do not. It's not hard to find someone commuting in their work clothes and even business suits.
So it's you who decides what you are wearing on commute and whether you like or not to take shower in your office ( Yes you have to get a little early ). Even if your office don't have showers you can clean yourselves with a moist cloth in the restroom.
That is why I always carry a nice chamois towel to dry off quickly. These special towels designed for swimmers are light, soft on skin and are easy to carry.
Also Read: Best Bike Skirt (Cycling Skorts) for Women
5. Follow The Roads, Not Just the Lanes
Depending on the distance of your commute you might be able to commute through clear streets or need to follow the busy roads. When riding on road be cognizant of your surrounding vehicles, fellow cyclist, pedestrian and swinging doors of parked vehicles.
You need to be extra careful around parked vehicles; as you never know which door will come swinging right at you. Although it feels its all their fault they too don't expect us coming from behind and get us in catch 22 situations when they instantly swing their doors on us.
When following roads with dedicated bicycle lanes try to ride in the middle; as it gives you the flexibility to move between obstacles.
Do not restrict yourself from moving between the lanes when required. In my experience, I have found most drivers to be friendly towards cyclists; opposite to popular beliefs on social media.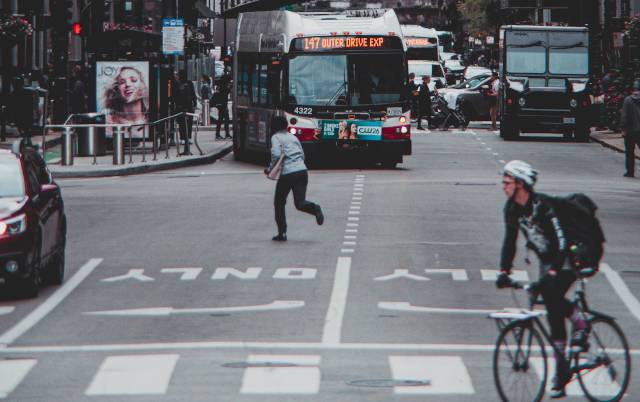 6. Biking To Work – Always Obey The Traffic Rules
Riding bikes doesn't mean you need not worry about traffic rules or the rules no longer applies. Yes, there are many traffic rules that are no longer relevant to a cyclist on bikes.
But there are a few common rules that still apply; for example, you need to stop at the signal, ride in a predictable manner, make yourself visible at night and use hand signals to communicate. There are different hand signals that you can use but least learn the most basic ones.
When riding its a good practice to maintain a safe distance from others and be watchful. If not necessary one should not move between lanes too often causing confusion.
Further one should avoid undertaking trucks or lorries at all costs unless quite experienced; commuting on a busy traffic. At last take it easy on your first ride; there is no need to go super fast maneuvering aggressively on roads drenched in sweat; as the reward is less than the increased risks of accident.
Read Also: Is It Legal To Ride A Bike On The Sidewalk?
7. Biking To Work – Choose Your Bike Carefully
To choose the right bike you need to ask yourself a few basic questions. How long is your commute? Are you exposed to unpaved terrain? is the area hilly? A mountain bike would be more appropriate if the area is hilly and exposed to plenty of unpaved tracks.
In case you are riding mostly on roads a road bike is more effective and easy to ride. Similarly, with your dress and riding style, you should switch between a backpack or a pannier based on crosswind intensity. I personally prefer a road bike to commute in cities and hybrid for the outskirts, small towns, and villages.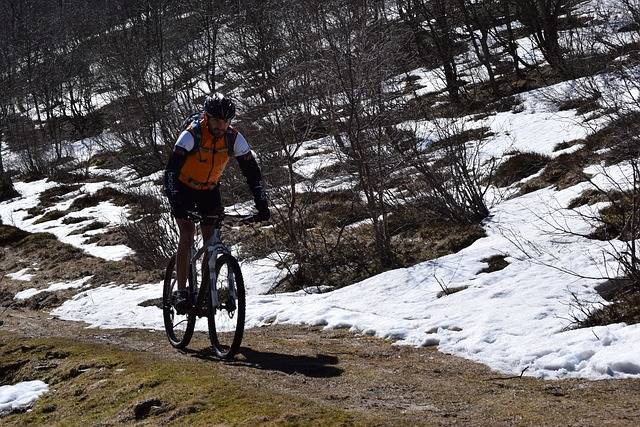 8. Service Your Body
Everyone who starts commuting has one of thee two goals; to stay fit and save some money down the line. Cycling is a great form of exercise that keeps your heart young, build strength, tone your muscles, and shed weight burning unwanted fat deposit.
Cycling get you fit but it requires some time; mixing it with cross-training ( Gym, Yoga, Zumba, Pilates ) gives better results. Further, it makes you more strong meaning more core strength and power riding. So to drastically improve your cycling performance one should so dome workout at the gym.
Don't have time or money to join a regular gym? No problem at least you can focus on various bodyweight exercise with jogging or jumping ropes. These training sessions should not need to belong but consistent. Otherwise, simply wait for a year commuting to get those results cycling.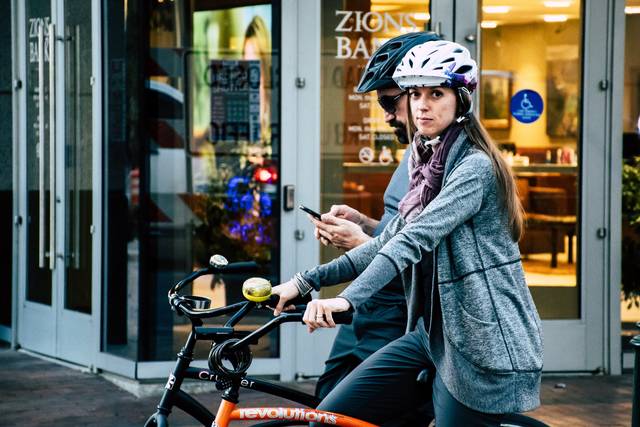 9. Wear A Helmet – Make Yourself Visible
No one wants to be in an accident; that truth but you should be always prepared to protect yourself In the unlikely case of an accident. When crashing into a car or any other vehicle the most vulnerable part is your head as there is less possibility of a recovery in event of any damage.
If you are worried about your life and safety on road its better you follow the lanes and wear a helmet to protect your head. I personally prefer BASE CAMP Adult Bike Helmet ( Get it On Amazon ) with Rear Light for its great design, safety features, excellent fit, and great value.
Do not forget to buy a pocket comb to address hair issues after you take off your bike helmet at the office. When riding at night prefer to use cycling vests with reflective properties.
10. Learn Some Basics of Bicycle Maintenance
When commuting to work one should know some basic things like how to adjust seat height, lubricate your chain, maintain appropriate air pressure in tires, clean your Seatpost, how to replace a chain, check brakes, and know-how to replace chains, tires and break pads.
You will not always require to do that other than keeping your bicycle clean and maintaining appropriate air pressure. But knowing these skills helps in longer commute as findings a repair shop can be sometimes tricky especially if you are out of the town, city or village.
You may find this article ( 101 Maintenance Tips For Bikes ) helpful keeping your bike maintained, clean and always ready for a long ride.
Also Read,
Are Huffy Bikes Good? What You Need To Know Before Buying!
Yoga Challenge Poses For 2 | All Asana With Video
What Is A Spin Bike And How It Differs From Exercise Bikes?