Keen to take on some Yoga Challenge for 2 ( for friends, couples and partners ) but wonders how do you do yoga with your partner? Wait no more and learn 15 easy yoga poses to do with partner.
Yoga is a great form of low-intensity exercise that helps keeps you relaxed and healthy. It stretches your muscles, de-stress your body, and helps one find inner peace. It is the fastest-growing fitness activity in the united states that helps maintain quality of life at any age.
While the traditional yoga itself has too many poses and methods. Yoga challenge is meant to inspire and motivate people to get into the practice. Further, they were introduced to push the boundaries and introduce new things in an already-established yoga practices.
Performing yoga with a partner keeps you emotionally and spiritually connected. It helps to build trust, understand each other limits, add more intimacy in your relationship and test limits of your body.
In short its the foundational block of a strong and flexible relationship. These yoga poses are quite fun to do and demand more flexibility, cooperation, and strength from the two. You cannot do it right unless you know what you are doing and have complete trust on each other.
What is a Yoga Challenge & Aren't They Un-Yogic?
Yoga challenge is an online trend started in late 2015 to spread its reach and motivate our non yogic friends to start practicing yoga. A yoga challenge last for about 30 days and involve fixed sets of asana to perform each day as a challenge.
Traditionally yoga has been all about finding inner peace, practicing different breathing techniques, postures, and mediation. Not just the asana and vinyasa that modern yoga sessions focus on.
These are just the physical part of the yoga; a small part of the vastness of yogic tradition. Ask anyone who follows traditional yoga; this all online trend to invite fellow yoga practitioners to take photos or videos of themselves practicing is Un-Yogic.
No matter how many yoga postures you practice its UN-Yogic as long as your intention is to get likes and appreciation rather than self-improvement.
While others find it quite interesting and beneficial for themselves and their yogic journey. They love exploring new things, compete with one other, spread the word, and show off. For them, a little show-off and competition is not bad as long as they manage to escape from the ego.
15 PARTNER YOGA POSES FOR A STRONG AND FLEXIBLE RELATIONSHIP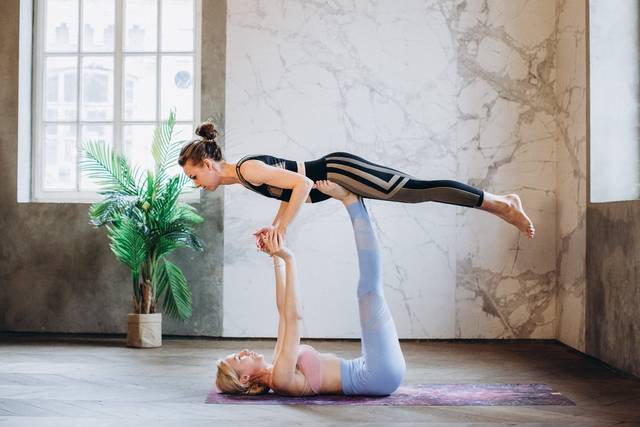 1 ) Acro Yoga
This is a whole new type of physical practice that includes both yoga and acrobatics. These advanced yoga practice require two persons ( couples / friend ) with a third person nearby as a spotter for safety. Working with one or more partners it helps build trust and bring openness to relationship.
Here the stronger partner needs to lie on the floor with their feet on the flyer's hips; such that it forms a 45 degree to the floor. While the other with more flexibility connects hands and leans forward. Be sure the flyer engage her front core to maintain stability as the base lifts.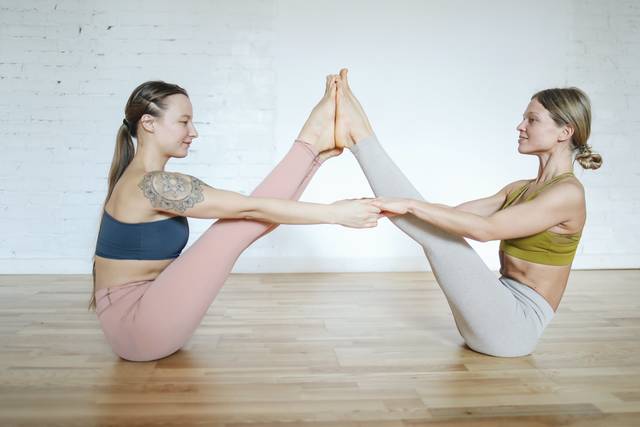 2 ) Buddy Boat
If it's your first time doing partner yoga and you are looking Yoga Challenge For 2 this is where you should start. This yoga pose is beginners friendly and does not require a reliable partner. So you can engage with the comfort of safety and build upon the trust and confidence.
Practicing this yoga Increases energy, stretches the hamstrings and lower back while gently working the core. To perform sit opposite to your partner and Touch your toes and forefeet to that of your partner. Now reach forward toward your partner and gram their hand.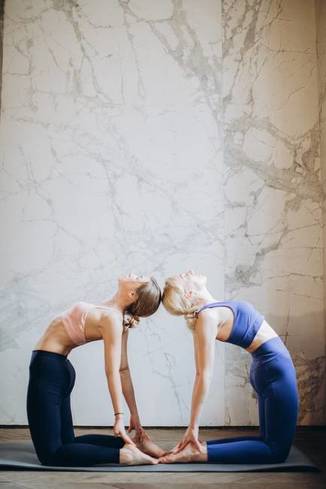 3 ) Camel Pose
It's a different type of partner yoga that includes less interaction between the two but requires a larger yoga mat. This is for those who want to take one step at a time with their yoga challenge. It helps improve posture and stretches your entire front of the body.
This asana target your abdomen, chest, back muscles, ankles, thighs, hips, and throat. Stand on your knees as your toes touch with your partners. Now while keeping your knees and feet together slowly lean backward till your head touches with your partners.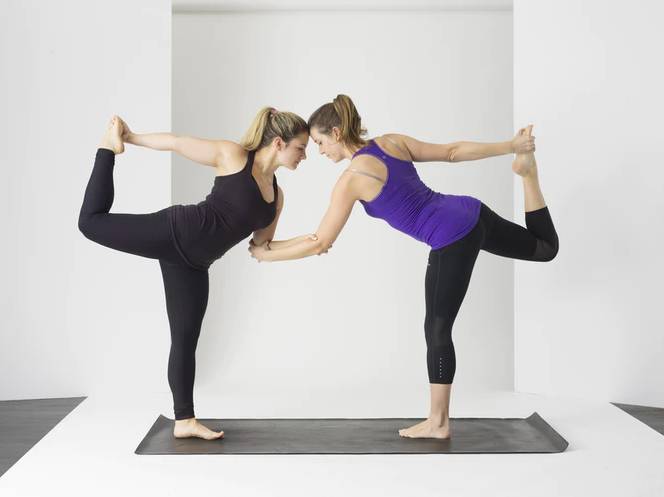 4 ) Dancer Pose
The dancer pose or "Natarajasana" is one beautiful yoga exercise that targets them all; strength, meditation, flexibility, and balance. It stretches your shoulders and chest, focuses the mind, improves posture, opens the hip flexors, and improve core strength.
Take positions on both ends of your yoga mats with your face facing each other. Now from standing tall in mountain pose shift your body weight onto your left foot. Raise your right leg behind while bringing your torso forward as a counterbalance.
From your left hand grab the forearm of your partner as the other hand grabs the right foot. Lean a little forward till your heads touch. Hold your breath for 6 to 10 times and don't lose the balance.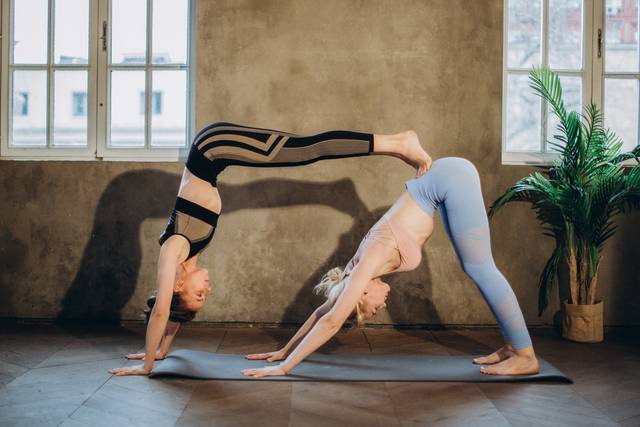 5 ) Double Downward Dog
This partner yoga pose involves two definite yoga poses ( Downward Dog & Handstand ). While one partner performs the downward dog others do the handstand. Its s creative way of using the preexisting yoga poses to create a different one for the two.
Ask your partner to get into downward dog position. Now by plating your hand on the floor bring your foot to her sacrum one by one. Be careful not to shift all your body weight accidentally to her lower back. Now slowly came in closer walking on your hands.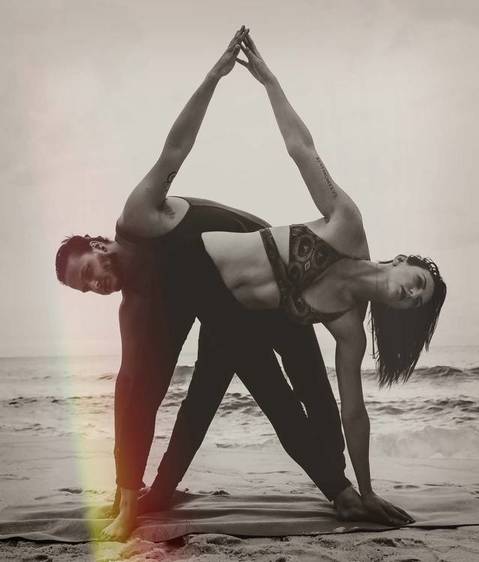 6 ) Double Side Down
This is a rather simple exercise that is used as a warmup exercise before taking yoga challenge for 2. While the other is for an intermediate level of yogis; its the easy beginner yoga poses for the two. If you practice yoga on your own, you might feel it unworthy to be part of a challenge.
Now stand straight in a straight line one after another with your legs wide open. Then bending on one side try to touch your toes with one hand while the other lifting high. Ask your partner to do the same but bending on another side. Now join your hand with that of your partner in air.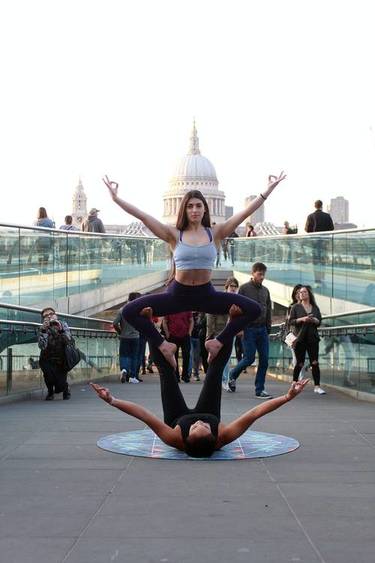 7 ) Extended Asana
This advance partner yoga requires the strongest sense of trust and communication other than the strength of the person on base. Here the flyer will seat on the sole of the partner's foot with her knees bent to hold the base legs and maintain balance.
Here the base lifts his legs to an angle of 45 degrees much like in the acro yoga but with his legs a little wide open. Then the flyer will sit with his legs on her thighs and bend forward as he lift. Now she bends her legs crossing her feet across his leg and get into the simple posture of yoga asana.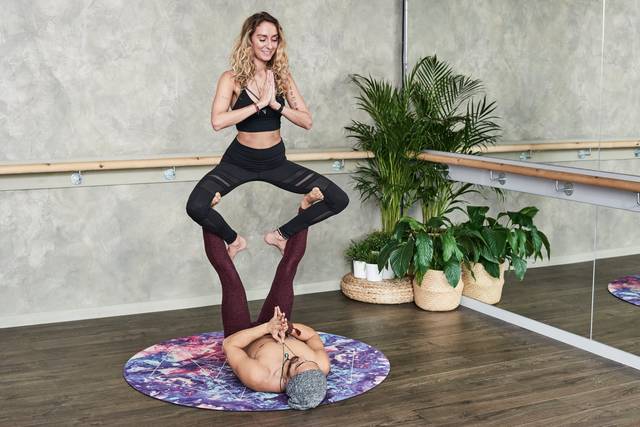 8 ) Flying Easypose
It's another advance partner yoga pose that requires quite some practice to perform; other than a higher level of trust, communication, mutual understanding, and strength. This helps foster connections, build greater trust, and introduce qualities like openness and patience to a relationship.
It's similar to the one mentioned above so first get into the extended asana position; with the flyer siting on top of the base foot sole. Now rather than extending your hands outwards take them inwards to your chest joining your hands as in the Yoga Easy pose.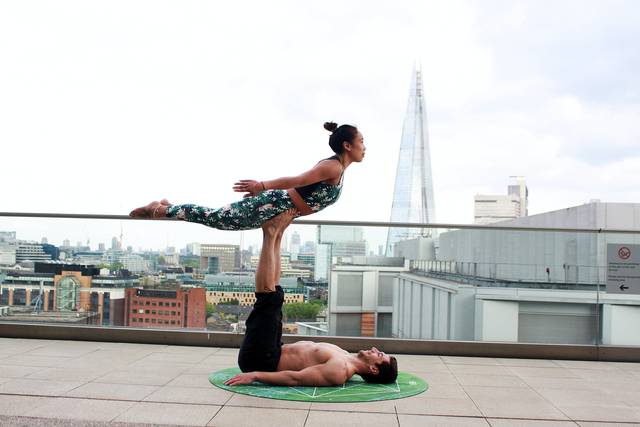 9 ) Flying Superman
Flying superman is a nice acro yoga for two that strengthen the chest, arms muscles, legs, and lower back of the partner on base and stretches the whole body improving balance in the flyer. So it's a great fit for couples who want to do exciting things and cares for their health.
The partner with more strength begins by lying down on the floor. Then the base should rise his legs to 45 degrees with his sole against the abdomen of the partner. The flyer should bend slightly forward as the one on base rise his feet forming a 90 degree with the floor.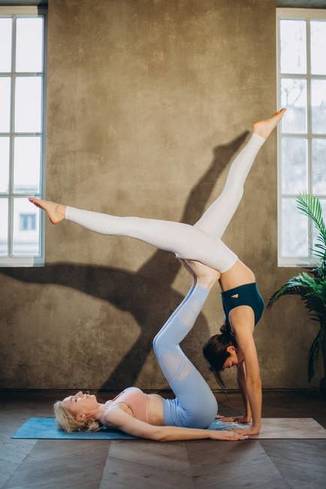 10 ) Handstand Scorpion
This partner yoga pose has two variations; in one the flyer stands on her palms rested on the chest with his partner lifting her up. In the second method, the partner on the base just supports the other with his/her foot as the partner performs the regular handstand yoga workout.
This advanced pose requires sufficient core strength and shoulder mobility to perform. Here the partner with less shoulder mobility lies down on base while the other forms a Scorpion Pose. Now the partner on base should support with her foot placed on the partnerships as she forms the scorpion pose.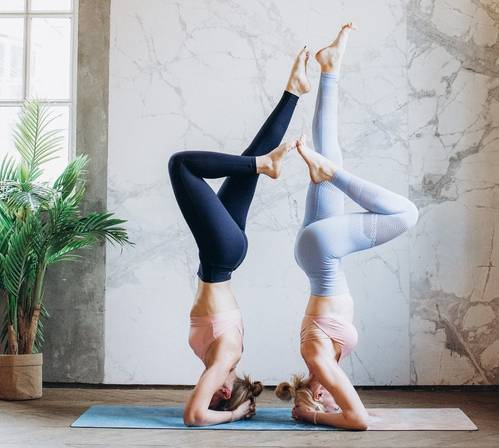 11 ) Head Stand ( Shirshasana )
It is one such yoga pose that is not much different whether you do it solo or with a partner. The Head Stand strengthens your arms and shoulders, increases blood flow to the head, improves digestion, relieves stress and help improve mental awareness ( Focus ).
Now to perform this yoga stick your head to the mat with your fingers interlocked and elbows placed at shoulder-width apart. Inhale and raise your knees and hips slowly upwards to get in position. Now by maintaining the position bend one leg so its toes touch with that of your partner.
12 ) Partner Forward Hand Clap
Looking for some simple yoga challenge poses for 2; then this might fit well on your list. It's easy simple and quite fun to do with friends, family and couples. This is another few partner yoga poses which helps build trust, bring depth to the relationship and know each other.
Start by getting in a plank position with your face facing each other and legs wide open. Now release opposite arms to clap and join together. Hold this position for a minute or two and then change hands before finally returning to your initial position.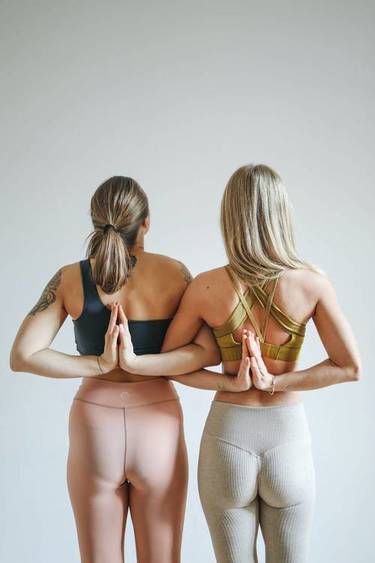 13 ) Reverse Prayer
Paschim Namaskarasana or the Reverse Prayer pose is a nice exercise to improve posture, flexibility, and strengthen the upper body. Performing reverse prayer pose can be both easy and hard depending on your shoulder and hand flexibility.
Start by getting in the mountain pose standing close to each other. Now begin raising your hand to your back bend your knees a little. Ensure your nearest arm crosses with that of your partner. Now proceed to join your palms with the fingers pointed upward.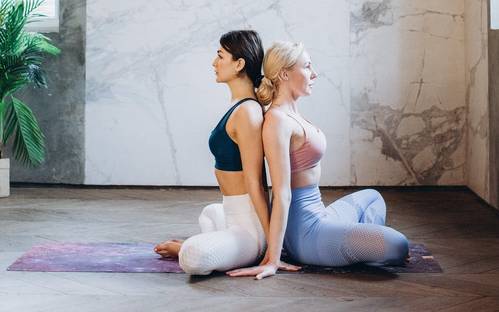 14 ) Seated Side Bend
Sit cross-legged with your partner with your back facing your partners back and often touching. Now place your right hand on the mat a little backward. Then raise your left hand upwards and bend to aside. Ask your partner to use her left hand and place it on top or close to your right hand.
Similarly join your left palm with right palm of your partner in air. Now hold on for that position, take 4-5 deep breaths and repeat it on opposite sides. This simple yoga workout will help you relive lower back pain, make your relation stronger and obtain better flexibility.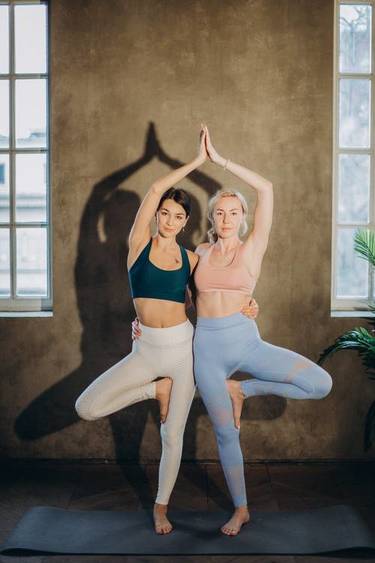 15 ) Twin Three Pose
Twin Three Pose or partner tree is a powerful exercise that involves a few deep breaths and balance. This simple-looking posture that improves concentration, strengthens ankles, opens hips, improve posture, and improve overall stability and balance.
You can play around with this asana adding different positions or trying different methods of balancing. In most simple pose stand side to side with your partner facing forward. Bring your outward legs on to the comfortable spot between the groin and your knee.
Once done, slowly raise your arm extending well up to touch your partner's palms. Then bring your outward palms to touch with that of your partners ( Prayer pose ). Now hold on that position and take a few deep breaths before relaxing or going for the next yoga pose.
Top 10 Yoga Challenge Poses for 2 Videos That Inspires
1 ) Acro Yoga Challenge! | The Nolan Twins
This first video on our list comes out from two twins Liz and Julia. They are not yogis and tried acro yoga and partner yoga for their first time in this video. In this video together they tried 5 different partner yoga poses; of which they succeed in just one doing it.
Different yoga poses they tried in this video were acro yoga, double plank, downward dog, buddy boat, and supported wheel pose.
At last, they proclaimed that while pictures make you look it's easy to do partner yoga. But are actually quite challenging and hard doing it in person; especially if it's your first time as a yogi.
2 ) Acro Yoga – Amazing Flow for Beginners
This professional yoga challenge video is done by acro yoga santuary. This channel is known to produce some great acro yoga videos over the years to inspire couples to try yoga for a better change. This extreme video includes 22+ different yoga poses and their variations.
The background music keeps you stick to this video till the end while the video itself has an appeal that makes it hard for new couples not to try them on their own.
This video includes quite hard poses and are not beginners friendly. But it does its job well to inspire youth to add yoga to their romantic life to build trust, which makes a relationship stronger and adds flexibility.
3 ) YOGA CHALLENGE pt. 2 !! || with my sister maddie!
Another video where sisters try to take on yoga challenge for 2. It's an interesting video that is entertaining to watch, funny and includes yoga poses. Here both Kenzie and Maddie did 9 different partner yoga poses.
It's the subsequent video in series of three after two separate videos published with their boyfriends on their channel taking this challenge.
4 ) The YOGA Challenge | Kallisti Bee
The yoga challenge by kallisti bee is a great source of entertainment and inspiration for partners looking for partner yoga for 2. Although the video is in Greek ( Used the Translator to detect – So not 100% sure ); you can clearly see how to do some basic partner yoga.
Unlike many other videos concerning partner yoga challenge; here they tried both solos, as well as beginner-friendly partner yoga, poses.
The background music is light but feels nice to hear but don't expect a professional touch up. They tried quite hard, pick some easy ones for the challenge, and finish well with only 4 failed attempts.
5 ) Acro Yoga Primary Series | Dave and Amanda
No one does it better than professionals who made it look too easy; you won't know the truth unless tried. Dave and Amanda are two yogis who love to educate and inspire others with their series of YouTube video on acro yoga with his channel named "Super Dave".
In a short span of just 3 and a half minutes, they manage to complete more than 25 different yoga poses. The background music is nice and inspiring keeping you focused through the video.
The partner challenge was taken well with no mistakes whatsoever; with the seamless transmission. If you are looking for some great partner yoga videos to learn but not entertain; this is one for you.
6 ) Extreme Yoga Challenge | Twins Vs Friends!
Lots of entertainment, fun, and stupidity it's a good match for those who like to see how wrong it could go before making the right moves. The music is loud and the girls keep on doing what we say perfect distraction; making it hard to get anything useful other than good entertainment.
But yeah it's quite the point you see these videos and learn the fun about this challenge and how relaxing and entertaining yoga challenge for 2 can be.
In this video, you will see a competitive match between team pink ( Sophie + Nikita ) and team blue ( Teegan + Sam ) around 12 partner yoga poses; in which blue team wins at last.
7 ) Acro Yoga Challenge *Impossible Poses*
The best acro yoga challenge that includes fun, learning, and entertainment at a once. Here two yogis who had some fair experience with yoga and acrobatics in the past tried on some hard acro yoga poses for two; just as a test to see their limits.
You can see the different poses and how they go through a few challenges in between. So how many partner yoga poses you think can do on your first attempt?
8 ) couples yoga challenge !!!!
If you like seeing real couples in action taking this yoga challenge this is the video you should not miss. Here Maddie with her boyfriend tried some interesting yoga poses for two.
The video does its job well to inspire youth to add yoga to their romantic life to build trust, which makes a relationship stronger and adds flexibility.
In this 9 minutes video, you will see tree pose, standing forward bend, acro yoga, assisted bow pose, double plank, double downward dog, seated side bend, and other complex variations.
9 ) Twin Yoga Challenge | Nina And Randa
Another twin sisters who like to make yoga videos on YouTube especially related to yoga challenges, partner yoga, and other related stuff. This one comes from Nina and Randa from quwai, who do yoga regularly in their daily life but did partner yoga just for their youtube audience.
In the above video, Nina had picked 7 partner yoga poses requiring beginner to intermediate level skills. Although it takes them quite some attempts they succeed doing them all.
There is no background music of any type or any dedicated suggestions on how to did this yoga in a step by step manner. The video was not much entertaining but was nice to watch and get inspired!
10 ) Extreme Yoga Challenge! | Teagan & Sam
The last video on our list comes from "squared"; a YouTube channel that posts content with twins. This video features twin sisters Teegan & Sam who call themselves "The RYBKYA Twins"; take on this yoga challenge and try partner yoga for their first time.
It's quite an interesting video to watch that inspires and entertains with its background music, creative poses, and fun to see some failed attempts.
Given their first attempt with partner yoga; they deliver it quite well with the least possible mistakes.
The video shows you that if you have some strength and trust your partner; it's not that hard to successfully complete this yoga challenge for 2.
General Disclaimer: This article is for general information only and does not intended to replace an informed medical opinion. You should not use this information to diagnose or treat a health problem. Always consult your doctor before changing your diet, sleep habits, dietary supplements, or a new exercise routine.
Also Read,
Are eBikes Good For Seniors? 7 Health Benefit For Old Riders
21 Best Bodyweight Exercises For Your Chest
Can Burpees Get You Ripped? | Learn How