Cycling can be an expensive hobby, especially when you don't know the trick to saving money on the priciest piece of hardware involved: the bike itself.
The components needed on a high-end mountain bike in particular can add up fast.
So, what's the trick to finding the lowest price? It's timing. Believe it or not, the cost of bikes rises and falls with the seasons. Knowing when to buy gives you a built-in discount.
The best time to buy a mountain bike is during the end season when local shops are up making space for next year's models and big retailers are pushing with big discounts. You can save up to 40% on last season MTB's during the months of Oct, Nov, and Dec as new models arrive.
But, that's not the only consideration. There are plenty of bargain hunting strategies that will let you get whatever bike you want at a lower price. And, as you may have guessed, I'm going to share them all with you!
By the time you're done reading, you'll know when, where, and how to get your hands on the MTB of your dreams. And, I'll teach you how to avoid letting the cost become a nightmare.
When to Buy a Mountain Bike
Looking for discounts as steep as a downhill stretch? You'll want to start your bike shopping at the end of summer. Mountain biking follows a seasonal schedule.
While there are sure to be at least a few riders on fat tires braving even the Winter snows, the vast majority of us are hitting the trail during the warmer part of the year.
As a result, demand is higher during the Spring and Summer. And, when demand is high, the prices are raised to match it. Once the weather begins to turn, bike retailers have to work harder to entice prospective buyers. The result is discounts ranging between 10-25% on average.
But, the weather isn't the only driver of the seasonal price drop. Many bike manufacturers use a model and upgrade system similar to that of the automotive industry.
This means that, as Summer ends, the MTB lineup is refreshed for several bike brands. And, as with cars, the outgoing models are discounted when the changeover occurs.
Lastly, bike rental shops also seek to replace their used stock seasonally, particularly the mountain bikes. During the peak season, rental MTBs rack up some hard mileage, and it's best to replace them before they take too much of a beating.
Because they are used, and sold in the offseason, you can expect even greater discounts.
New Bike Models Every Year ( Popular Bike Manufacturer And Their Release Date/Month )
While it's true that you can find a deal on an older model mountain bike when an updated version is released, it's difficult to know exactly when that will happen.
Bicycle manufacturers don't all have the same release schedule. And calling what they do have a "schedule" suggests there are exact dates and times when the truth is things are looser than that.
Many larger manufactures, like Giant, Trek, and Specialized, usually put out new models between July and August. Though, the roll out is timed differently for different areas, meaning some locales might have a bike as early as May, while the wider release happens later.
Moreover, there are bike makers who are shaking up the norm, like Cannondale and Diamondback, who release later in the year, in Fall or Winter. Add to that mid-season releases, and parts updates in reaction to sudden new components being released.
It can be hard to pin down the release date for any particular MTB model. Check with the manufacturer for the most accurate estimate.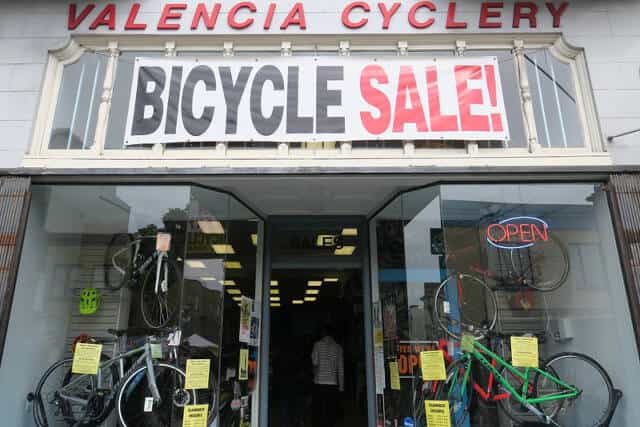 When Do Prices Drop On Bikes?
Bike prices drop during the offseason, but only when there is a negative impact on demand. Cold weather lowers demand, as less people will be riding, and when a new model is released, the older model usually receives a discount.
However, in 2020 a pandemic related bicycle scarcity has caused demand to remain high, as the supply is low. Because of this, prices this year don't reflect the seasonal norm.
For instance, The 2020 Gravity FSX MTB actually went up from $460 to $499.95 on Amazon in OCT 2020, and remained steady as of DEC. This represents an 8.7% increase in price, and similar trends can be observed with Schwinn and other brands.
Yet significant discounts can still be found each season due to sales on Black Friday, Cyber Monday, and Christmas. For example recently Retailer Jenson USA is offering bikes for huge discount upto 40% on Black Friday, down from it's regular prices.
Similarly, Walmart usually cut the price of MTB's by 15 to 30% throughout the festive season ( November, December ) which is better than the big rush for discounts on specific days.
What Are The Best Places to Buy a Bike?
So, you have an idea of the ideal time to purchase a mountain bike, but where exactly should you look? There are variety of vendors, and each has their own pros and cons, depending on your specific needs:
The Manufacturer
Online Retailers
Department Stores
Bike Shops
Auctions
Private Sellers
Of these, the manufacturer and bike shop will have the highest prices for both new and older model bikes. Your local shop adds value by bundling service packages with your bike, and giving you a chance to actually test ride. But, in terms of the price, the other options are superior.
Online retailers are part of a far more competitive marketplace, which drives their prices down to the lowest possible margins for new and old model bikes. Some of their cost savings come from shipping the bikes only partially assembled, so be aware.
Big box stores like Walmart and Target generally have cheaper budget bikes available. You'll save money, and if you don't need higher-end performance, this may be the most convenient option for you.
Auctions and private sales can be handled in person, or on online via social media or sites like eBay. You can get the best deals this way, because you are buying used most of the time. However, you also forgo the protection of a warranty, and there's no telling which makes and models will be available.
Online Vs Offline Deals – How Much You Can Save
Online bike retailers have the advantage. They don't have a brick and mortar store and all the accompanying overhead. Staffing is minimal, and, as previously mentioned, they don't even have to fully assemble the bike. All of this allows them to consistently underprice offline retailers.
This naturally extends to sale prices. Online retailers have more wiggle room. That mountain bike you're after is already going to be about 10-15% cheaper online.
When the season ends, and a bike shop can finally actually afford to discount it at all, the online prices will also fall, potentially widening the gap even further in their favor.
Remember, that off-season price is only 10-25% lower. That means that, assuming the online price was already 15% cheaper, a minimally discounted bike from the store would still be more expensive.
And, that is assuming you're buying your MTB online from a shop and not a private seller. Factor in the 40%+ depreciation, and you get a better value than every other option.
The one thing that can tilt the scales for the bike shop is their service plan. Over time, the cost to service your bike will be higher if you bought it online — assuming you're unable to take care of it yourself. That single detail could ultimately make the bike shop a cheaper option in the long run.
How Much You Can Negotiate on a Bike?
After reading about how tight the profit margins are for brick and mortar shops, this next part shouldn't surprise you. Bike shops don't have much room to negotiate their price, even when the markup may seem high.
Remember, shop owners have to pay their staff not just for retail services, but for expert repair and assembly. The average bike mechanic salary is $30,000 annually, then there are taxes, fees, utilities and myriad other overhead costs.
By the time it's all said and done, a shop can net less than 20% of the sale price. Though they tend to make more, averaging margins of about 36% on a 50% markup, it still won't be enough to cover expenses if they don't sell a high enough volume. And, customers are hard to predict.
However, part of the local shop mythology is the ability for regulars to get a great discount here and there for their continued business. A store owner can choose to sacrifice some profit at their discretion, so it's not a waste of time to ask for a discount. It can, and does, happen.
Don't expect to get more taken off of an item already on sale, however. At that point, it's probably as low as it can go without hurting the store.
Finding Demo Bike Programs – Get Better Returns
Demoing a mountain bike is a fantastic way to put it through its paces. Depending on how you go about it, you may get the full experience of taking the bike home with you, and riding on your chosen terrain. But there are several ways to experience demos.
Festivals
There are actually mountain bike festivals held all across the country — and the world, if you happen to be traveling internationally. For a low fee, you will have access to a variety of events and experiences, including the option to demo several highend MTBs.
The Fruita Fat Tire Festival, for example, grants you privilege for only $50. That's practically nothing for the opportunity to take a few $3000 bikes for a spin.
Brand Demos
Where festivals let you sample many brands, when the event is held by a manufacturer, you only get to try their bikes. On the plus side, these demos usually cost you nothing, and are held in cooperation with your local bike shop at a place that should be relatively convenient for you to reach.
Store Demos
The priciest, but most accessible, option, is the store demo. Check with your local bike vendor, and chances are they will rent a mountain bike out to you for about $100 a day. This is a great option, but you should do a few things to get the most out of it.
Make sure the bike is well-tuned before you take it. After all, you're paying for a chance to ride it, not repair and tune it.
Already have a destination in mind. Again, you don't want to waste time. Find a place that will really allow you to experience what the bike has to offer before you get it.
Ask about discounts for several day rentals. If you want to take the bike on a trip, you'll need more than a day or two. Many shops will bring down the daily rate for long term rentals, assuming they allow them.
When Do Big Bike Retailers Like REI, Walmart, Target Have Sales?
If you want a quick, simple, and low cost bike purchasing experience, then a big retailer is the place to go. They have bikes in stock for very low prices, and you can expect them to be at their cheapest during a sale.
Stores like Walmart have sales at predictable times. Black Friday and Christmas sales encompass everything in the store, including bikes, and you can find excellent discounts at these times.
Other holidays, however, like Labor Day and Independence Day, also tend to bring down bike prices, as they make for a great summer buy.
These stores are less concerned with the seasonal rhythms of other, more specialized, bike retailers because they aren't concerned with stocking the latest and greatest.
That said, they are still impacted by supply and demand, so they may also have sales in the offseason to move some old stock.
It may seem surprising just how low the prices can go at big retailers when compared to everyone else. But, they essentially buy their bikes wholesale, and you can expect to see all low cost, low-end components. Still, for an MTB for trail riding, or for a kid, these bikes can be a decent choice that won't hurt your wallet.
Things To Consider When Buying a Bicycle
You shouldn't rush your bike purchase if you want to be satisfied with what you get. Remember, a bike is a relatively long term investment. With proper upkeep, you might not need a new bike for years — or ever, if you're an infrequent rider.
But, that depends on whether you bought the right bike to begin with. Remember to consider the following before leaving the store, or clicking the buy button:
Price. We've talked about this several different ways so far, so you know where the cheapest options lie. But, if you can afford a new bike, you may want to buy it over a cheaper used version.
Service. This goes hand in hand with price. If you expect to ride your MTB often, then you know it will require plenty of services over time. It may be better for you to buy from a bike shop to get an affordable deal on that, but if you're a mechanic yourself, you don't need to worry.
Safety. If you are looking for exhilarating and risky downhill riding over rocks, roots, and other rough terrains, you need a higher-end MTB that can safely carry you through. Don't skimp on features or buy the cheapest thing you can find — get what you need to be safe.
Fit. This is where it can really help to have the expert advice you can get from a bike shop. If you aren't familiar with bike sizes and styles, you can easily buy something too small, too big, or otherwise uncomfortable for you.
If you don't know exactly what you need, it will be worth it to buy from your local shop, and spend a little extra for their assistance.
Buying a Used MTB
Now, I've already mentioned that used MTBs are immediately far cheaper than new. And, they can be in fine shape and totally safe to buy. However, because of the hard riding these bikes can be subjected to, it's more likely that a used MTB will have a significant issue or two.
Because of this, I strongly recommend you only buy a used mountain bike if you can inspect it in person, or if it is from a source you trust entirely.
Your personal inspection should be thorough. You'll want to check the following components in particular:
Frame. Any significant damage to the frame is a reason to pass. Scratches to the paint don't matter, but cracks, dents, and bends are serious issues.
Suspension. Engage the suspension and listen for the telltale signs of approaching breakdown — squeaking, scraping, rattling, etc. Also, just see how it feels. You can replace it, but make sure the price reflects that's the case.
Drivetrain. This is an area where all sorts of problems can be lurking. A good general indicator is the wear of the chain. If the chain is well worn, then so is the mechanism surrounding it in all likelihood. Give it a ride and see how it feels. Switch through the gears and note any issues you experience.
Wheels and Brakes. Again, you're looking to see if these things need to be replaced. Check the tire treads and valves, the spokes, and rim condition. Make sure the brakes actually function, and that the pads aren't overly worn.
Conclusion
Even though there are plenty of outlying variables, the best time to buy a mountain bike, or any bike, tends to be during the offseason. This starts at the end of Summer, and runs on through Winter.
This is the time you can find the best deals, albeit on last year's bikes. If you want the latest and the greatest, and you aren't willing to wait, then your ideal time to buy will be as soon as the bike is in stock.
And, there's nothing wrong with that. It makes sense to get the best deal you can, but there's no need to sacrifice your cycling desires if you're able to afford what you want. That could mean spending more for a state of the art MTB, or paying extra because you want to support your local shop.
In the end, the best time to buy is when it suits your individual circumstances.
Also Read,
Fixie vs Road Bike: Are Fixies Faster Than Road Bikes?
How To Make Bike Brake More Responsive? Adjust Bike Brakes Easy
Most Comfortable Bike Seat For Overweight Persons
Are Hybrid Bikes Better Than Mountain Bikes? | Find Your Perfect Bike