Cycling continues to grow in popularity especially as your convenient commuter, and it's easy to see why. With environmental concerns at an all-time high, many people are drawn to cleaner modes of transportation, and bikes are the king of green transit.
That said, not all bikes are created equal and a wrong decision can leave you with the wrong bike.
While they are all far cheaper than cars, some of them can be costly. On the other hand, choosing the wrong budget bike for commuting can leave you with a poorly performing machine that doesn't last a year.
Wading through all the options can be a complicated headache, but luckily for you, this article collects the top ten sub $500 bikes in one place. This list contains bikes for men and women, hybrids, fixies, and multi-speeds. Several of the listings have weight capacities at or in excess of 300 lbs.
Whether you are a new rider, or an old hand looking for a fresh set of wheels, you'll find something below that suits your needs — and meets your price.
Rank

Best Commuter Bikes Under $500

Commuter
Type

Frame

Product Link

1

sixthreezero EVRYjourney Men's Urban Commuter

Hybrid

Aluminum

2

Raleigh Detour True Comfort Hybrid Commuter Bike

Hybrid

Aluminum

3

sixthreezero Ride in the Park Men's City Road Bike

City

Aluminum

4

Micargi Men RD 818 City Commuter Bike

City

Aluminum

5

sixthreezero EVRYjourney Steel Women's Hybrid Bike

Hybrid

Steel

6

sixthreezero Explore Your Range Women's Commuter

Hybrid

Aluminum

7

sixthreezero Reach Your Destination Women's Bike

Hybrid

Aluminum

8

26″ Micargi Women's Roasca NV3 City Commuter

City

Steel

9

26″ Micargi Men's Roasca V7 City Hybrid Bicycle

City

Steel

10

Vilano City Bike Men's 7 Speed Retro Commuter

Retro

Steel
Best Affordable Commuter Bikes Under $500 Review
1 ) sixthreezero EVRYjourney Men's Urban Commuter
Get used to the name sixthreezero. Several of their bikes have made this list, and this entry is a good example of why it is so loved by daily commuters. The EVRYjourney provides the comfort and practical features that make a commuter bike indispensable.
The bike is light, thanks to the aluminum frame. Moving and maneuvering it is easy, a key trait in a commuter bike meant to be ridden daily.
With 7 speeds to choose from, and hand brakes both front and rear, tackling moderate inclines and declines is a simple task. The 26 inch wheels are great on the road or unpaved paths.
The EVRYjourney doesn't sacrifice comfort to meet its sub $500 price point either. The dual-spring saddle is both wide and plush, constructed of high-density foam that absorbs the turbulence of the road.
An ergonomic design allows you to sit comfortably upright as you ride, and a rear rack lets you carry what you need. Whether you're headed to work, riding park trails, or hitting the beach, this bike is up to the task.
sixthreezero EVRYjourney Men's Commuter: Check Price on Amazon or Buy Direct From Manufacturer!
2 ) Raleigh Detour True Comfort Hybrid Commuter Bike
Looking for an affordable unisex hybrid bike? The Detour has you covered. This attractive offering from Raleigh is an excellent choice for heavy riders in search of a daily commuter.
The Detour has a carrying capacity of 350 lbs, and is well built to accommodate larger riders. The aluminum frame is paired with a sturdy steel fork for solid stability. 21 speeds allow the bike to meet the rider at their ideal pedaling cadence in all riding conditions.
A wide, soft seat staves off saddle sores, and soft handlebar grips blunt impacts and prevent calluses. No-slip pedals keep your feet firmly planted, even if you happen to get caught out in the rain.
This bike's wide tires do double duty, more evenly distributing weight while providing extra cushioning to aid the rigid suspension. Wider tires are also well suited to gravel and light off-roading.
This bike lives up to its name, representing a detour away from expensive options for larger framed riders looking for a stylish and comfortable ride.
Raleigh Detour True Comfort Hybrid Commuter Bike: Check Its Price on Amazon!
3 ) sixthreezero Ride in the Park Men's City Road Bike
This second entry from sixthreezero is ideal for city commutes on paved roads where its features can be best utilized. A streamlined aluminum frame makes the bike both light and aerodynamic, and narrow 28 in wheels provide easy speed on paved surfaces. Take it out for a quick trip, or long ride.
As its name suggests, the Ride in the Park is equally capable of leisurely rides down parkland trails.
Its 7 speeds grant the flexibility to deal with changes in elevation, and hand brakes at both front and rear make sure you can stop when needed.
Attach a basket to the rear rack, and you can carry all you need for a picnic. Perhaps the most striking feature is the bike's classic design and coloring.
The economical road bike frame is a cool gray color, accented by the rich brown faux leather on the plush foam saddle and handlebar grips.
The tires are colors to match, proving you don't need to break the bank to ride in style.
sixthreezero Ride in the Park Men's City Bike: Check Price on Amazon or Buy Direct From Manufacturer!
4 ) 26 Inch Micargi Men RD 818 City Commuter Bike
The RD 818 represents biking in its most straightforward form with a fixed gear, single speed design. Fixies benefit from the removal of complex gear systems, making them lighter and easier to maintain.
This offering from Micargi has a light, responsive aluminum frame paired with a stiff fork of high tensile steel. This combo gives a responsive feel while improving stability. A performance saddle and racing handlebars mean that this bike is primed for maneuverability and speed.
The 28 in wheels help to translate your pedaling into smooth, swift acceleration over city streets and other level terrain. More athletic riders can power the RD 818 up inclines and manage it down slopes.
Like other fixed gears, this bike rewards the effort of the rider.
This is a great bike for commuters in the city, particularly those who want a bike for the workout it can provide. It comes in 4 different colors, including a vivid red paint job that gives it a truly sporty appearance.
Micargi Men RD 818 City Commuter Bike: Buy Now From Bikeberry.com
5 ) sixthreezero EVRYjourney Steel Women's Hybrid Bike
The third entry on the list from sixthreezero is another EVRYjourney, but this one is for the ladies.
The distinct low-top bar is perfect for straddling the bike while wearing a dress or skirt, allowing the rider to hop on just as easily dressed for work or fun.
The features are those you've come to expect from sixthreezero.
A well-cushioned saddle and soft handlebar grips are par for the course. The ergonomic pedal placement works with these features for a pleasant ride every time.
This cruiser style bike has swept back handlebars as well, so you can remain seated and upright while coasting along the beach or down some nature trail.
Turbulence will be a minimum, thanks to the wide wheels and the resilient steel body.
The bike has a beautiful look as well, with a navy blue frame and brown saddle, and grips for contrast. White walled tires and sky blue rims make this bike a head-turner.
sixthreezero EVRYjourney Women Hybrid: Check Price on Amazon or Buy Direct From Manufacturer!
6 ) sixthreezero Explore Your Range Women's Commuter Bike
Another stylish women's bike from sixthreezero, the Explore Your Range is perfect for doing just that. When you hop onto the supportive foam saddle and fall into the perfect riding position, you'll want to go as far as you can.
The aluminum diamond frame is a breeze to handle, and makes for easy mounting and dismounting. As for speeds, 7 is once more the magic number.
This is just enough gears to meet the most common levels of incline and to make long rides as efficient as possible. And, when it's time to stop, the front and rear hand brakes do the job nicely.
This bike can be adjusted for a bespoke fit, allowing you to change both the elevation and the angle of the handlebars to your desired position. The rear rack can be fitted with a basket or panniers, making this a fine choice for a quick shopping trip.
Like the previous entry, the Explore Your Range mimics the navy blue and brown style, imparting the same luxurious feel to this commuter-ready bike.
sixthreezero Explore Your Range Commuter: Check Price on Amazon or Buy Direct From Manufacturer!
7 ) sixthreezero Reach Your Destination Women's Hybrid Bike
Continuing the theme of women's bikes, the Reach Your Destination is another ride well suited for traversing the suburbs, city, or parks whenever the mood strikes. That hybrid functionality also extends to the design aesthetic, putting this bike somewhere between a road bike and a cruiser.
The aluminum frame means this bike isn't a strain to move or steer. The handlebars are slightly angled backwards, but not as dramatically curved as a cruiser.
They are still positioned to promote the same straight-backed position as other sixthreezero offerings, so you can arrive at your destination without feeling sore.
The standard 7 speed drivetrain is present once again, along with the handy rear rack and matching front and rear fenders. Hand brakes for the front and back wheels share space with the gear shift on the handlebars for easy access. Large diameter wheels make it easy to coast on this bike.
This time, the whole package comes in a handsome cream and brown coloration, with stitched faux leather accents. The Reach Your Destination delivers comfort, along with classy, subdued style.
sixthreezero Reach Your Destination Women's: Check Price on Amazon or Buy Direct From Manufacturer!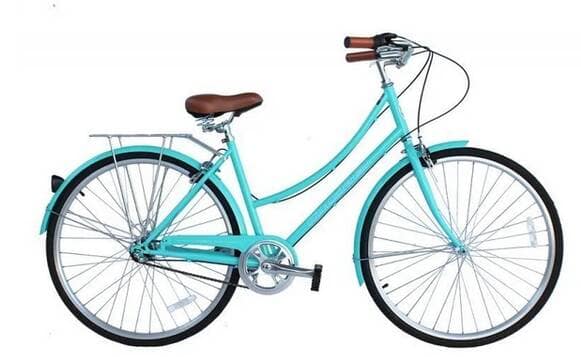 8 ) 26″ Micargi Women's Roasca NV3 City Commuter
Rounding out the offerings for women is the Roasca NV3 from Micargi. This sturdy bike is purpose built for commuting on city roads, whether that means taking advantage of paved roads for zippy speed, or withstanding bumps with curbs and uneven pavement
The high tensile steel frame is responsible for the bike's resilience.
It adds a bit of weight over aluminum frames but makes for a very solid ride. The bike comes in 3 different sizes as well, so you can find the version easiest for you to handle.
It's a single speed bike, so riding on level terrain will be the easiest. Alloy brakes at the front and rear will allow for safe stops, of particular use in a city environment where many obstacles can suddenly appear.
The bike comes in 3 colors, and whatever you choose will be matched on the included front and rear fenders. There is a chain guard as well, making this fixie even less likely to require frequent maintenance.
26″ Micargi Women's Roasca NV3 City Commuter: Buy Now From Bikeberry.com
9 ) 26″ Micargi Men's Roasca V7 City Hybrid Bicycle
For those who like to ride high in the saddle, the Roasca men's bike from Micargi is an excellent choice. The high saddle is almost level with the handlebars, promoting more of a forward-leaning, aerodynamic riding posture. You'll feel like racing when you climb onto the saddle.
Micargi's choice of steel frame keeps you from feeling every bump in the road and extends the bike's longevity. The saddle's spring suspension and padded seat further absorb any impacts. Meanwhile, the alloy, caliper style brakes make sure you can stop in an instant.
As a hybrid, it performs well on and off road. The beefy frame helps to better withstand more turbulent terrain than some other, lighter hybrid models, but the weight is still comparable to other bikes on this list.
As with their other bikes, the Roasca has 3 sizes to accommodate different body types.
It also comes in four colors to appeal to different tastes. If your commute has a few rough patches, this bike can definitely hold up to them.
26″ Micargi Men's Roasca V7 City Hybrid Bicycle: Buy Now From Bikeberry.com
10 ) Vilano City Bike Men's 7 Speed Retro Urban Commuter
Finally, we have a retro styled city bike from Vilano. Another option that has been optimized for traveling through urban environments, this bike takes a page from the Micargi design book, featuring a stiff steel frame that manages to be lighter than many aluminum alternatives.
This is partly owed to the aforementioned throwback style. Vilano channels the utilitarian aesthetic of the past, making a bike that is streamlined and attractive. Yet, it doesn't lack features.
Its 7 speeds make it a bike for all occasions, and the twist shifter means you never have to release the handlebars — a win for safety.
The high saddle makes this a bike best suited for taller riders, and those looking to ride at speed. Connection points for water bottle holders or racks let you modify the bike to meet your needs.
With an all-black body and brown saddle and grips, this bike makes for a dark, classy steed at a very affordable price. A perfect choice for the average rider!
Vilano City Bike Men's 7 Speed Retro Urban Commuter: Check price on Amazon!
How To Choose Best Budget Commuter Bikes
Evaluating bicycles can be tricky, and only becomes more complicated when shopping in the budget sector. After all, low prices mean that some features have to be sacrificed over the higher priced variants.
The key to choosing wisely is knowing which features are necessary, either for safety, longevity, or your own personal use. Make sure to consider the following when making your choice:
Frame Material & Weight:
Expensive bikes tend to use more exotic materials like titanium and carbon fiber. When looking for a budget option, aluminum alloy is great for less punishing terrain, while you should opt for steel if you expect your bike to be taking hard knocks. This choice alone will save you hundreds of dollars.
Bike manufacturers are always trying to shave pounds from a bike but beyond a certain point the materials and technology required to do so safely raise the price dramatically.
A commuter bike in the 30-45 lbs range is effectively removed from the realm of professional or competition-style bikes. It's still easy to handle and will serve you well, but it also protects your bank account.
Features & Customization:
As this list illustrates, not every commuter comes with the same features. Look for a bike that has front and rear brakes, a comfortable saddle, and a weight capacity that suits you and your expected cargo.
If you're set on a model, but it doesn't come with the rack, water bottle holder, headlights, or other feature you want, check the specs for the appropriate connection point.
Some of the best budget bikes (like the Vilano above, for example) allow you to add these attachments easily, without forcing you to pay for them if you don't want them.
Keeping those points in mind, the most important criteria will be unique to your needs. The best commuter bike, budget or otherwise, is the one that allows you to tackle your commute safely and comfortably.
Frequently Asked Questions
Q.1 What bikes are best for commuting?
Choosing the best type of bike also depends on the type of riding involved in your commute. If you'll be riding through a predominantly urban area, a city bike or fixie would be ideal options.
They tend to have more robust frames and wider tires for dealing with curbs and uneven pavement and are built more for control than speed.
On the other hand, for commutes involving long distances on paved roads, a road or comfort bike is the better choice. Road bikes allow you to reach high speeds at a low cadence, while comfort bikes have wider seating and other creature comforts making even the longest rides easy.
Q.2 How much should I spend on a commuter bike?
The rule of thumb is that you can expect to pay roughly $500 for a commuter bike that will perform well and last for a decent amount of time.
This doesn't mean that everything at a lower price range is bad, but rather that the components and materials used in their construction are often cheaper and may break down sooner.
However, budget bikes can last as long as more expensive bikes with proper maintenance.
It's important that they're ridden as intended as well. Yet, even if you take every precaution, don't expect a bike at a sub $300 price point to match the performance of a more expensive ride.
Q.3 Are commuter bikes good for long-distance rides?
Commuter bikes can be good for long-distance rides. Remember, many types of bikes can be sold as commuter bikes, and some of them, like city bikes; are better suited to the frequent stopping and short distances of urban environments.
Road, comfort, and touring bikes are each made to maximize the efficiency of long-distance cycling. Each of these can serve as an excellent commuter bike for a long-distance commute.
E-bikes are another good option. Provided they have the functional range to complete a long trip, e-bikes can actually extend the distance you can comfortably travel, albeit for a higher price.
Q.4 How heavy should a commuter bike be?
As with practically every other facet of choosing a bike, what counts as an acceptable weight depends upon personal preference and ability.
A weight of 30 lbs is generally considered to be a mid-range average for most bikes, with 40 lbs entering into the heavier range. High end, carbon fiber or titanium bikes can weigh as little 15 lbs, but you pay for that benefit.
While lighter is better, ultimately, the ideal weight is that which you can comfortably handle, both when steering, and when it is necessary to carry the bike.
Also Read,
Best Schwinn Hybrid Bikes 2022 – Review & Comparison
Best Small Handlebar Bags (Burrito Bag) For Commute & Travel
Which Bike Type Is Best Fit For Commuting?