Nike ACG Boots are great for outdoor activities like hiking, camping and backpacking. You can also wear them when you go jogging or playing sports.
These shoes are designed to provide support and comfort while walking on uneven surfaces. They're made of durable materials that will last through many adventures.
Are Nike ACG Boots Good For Hiking? Short answer: Yes! They're definitely good for hiking. Long answer: Nike created the ACG line specifically to be able to withstand 'all conditions'.
That means these shoes can handle any sort of harsh outdoor conditions or terrain and keep up with even the most extreme thrill-seeker, not to mention how stylish they are.
Nike released this line in 1989, replacing the 'Nike Hiking' line with a broader title to encompass all outdoor activities and boost sales.
Over the years these have gained quite a reputation as being some of the best outdoor footwear on the market. Here are just a few of their awesome qualities.
Nike ACG Boots: A good hiking boot?
They Have a Comfortable Fit
If you're looking for a pair of boots that are both stylish and functional, then these Nike ACG hiking boots are perfect for you. They feature a breathable mesh upper with a cushioned collar and tongue.
This provides excellent ventilation and keeps feet dry and warm.
These weren't only designed with functionality and style in mind. They were also built to last and to keep your feet feeling comfortable.
They offer shock absorption as well as special cushioning inside for optimal comfort. The collar is also stretchy and less constrictive than other hiking boots.
Some customers even wear these to work to minimize foot pain after a long day. These shoes feature a special lining inside the tongue and collar to protect against friction and blisters.
It makes an enormous difference for someone who's on their feet all day, at work or in the outdoors.
To celebrate 30 years of manufacturing specialty hiking footwear, the newest ACG model is the Mowabb.
These offer that classic cushioned Air underfoot feeling for which this brand is so famous. You also get the support of Huarache technology surrounding your heel.
The Rubber Sole Provides Traction
Another terrific advantage of wearing these out on your next adventure is the traction offered by rubber soles.
The outsole is made up of durable rubber that gives you good grip while walking. It's also shock absorbing so you won't feel any impact when you land after jumping off a cliff.
The manufacturers have made sure you can face any outdoor conditions-rain, mud, snow-and you've got the best footwear traction on your side.
These give you a huge leg up when facing slippery and rugged terrain. It's nice to know you can add your safety to the list of things Nike kept in mind when designing these.
A great example of their breakthrough design is the Ruckel Ridge. This is a triple threat against the elements designed by Nike Footwear Designers Tinker Hatfield and Aaron Cooper.
Together they designed a sole with a soft rubber center for comfort and shock absorption in addition to traction.
This is surrounded by their top-secret "High-performance road running formula" and lined along the outside with special cleat rubber.
They Provide Good Support
We all know good foot support is important. Our feet weren't made to walk around for hours and miles against flat shoes. This is another thing that makes this product so great.
Poor foot support affects more than just your feet. It can affect your whole body, leading to back pains and poor posture. If you're looking for a comfortable shoe that provides excellent traction and support, then these are the ones for you.
They come with a removable insole that allows you to customize the fit according to your foot size. This makes them ideal for people who need extra cushioning.
As I mentioned before, this is a benefit to ALL wearers, even if they're not headed to the great outdoors. The ACG line offers Nike react cushioning. It's soft and reacts to the unique shape of your foot to offer optimum support.
It's not just the bottom of your foot, though. These shoes offer ankle support as well.
Three great benefits of this support are protection against rolling your ankle, foot posture improvement, and stability from unnecessary ankle movement.
You'd hate to have your foot slip off a rock you're climbing and not have that ankle support there to help keep it from bending too far.
They Are lightweight
It's easy to forget how much weight we carry around with us every day. A pair of Nike ACG boots will help you stay light on your feet while still providing the support you need.
Everyone prefers to go with lightweight shoes unless necessary. Not just it reduces the weight of backpacking but also improves mobility and are more easy to put on and off.
Wearing lightweight shoes means all your energy can go into what you're doing, not into what your feet are doing.
Heavy footwear only holds you back. It leads to swifter muscle tiredness and soreness. It generally doesn't breathe as well as lightweight footwear and causes you to wear down faster.
The lightweight design of the ACG line of footwear is healthier for the feet and offers greater comfort and support.
Imagine the discomfort and the burden of going through your day with heavy shoes weighing you down? That won't happen with these.
Toe Protection & Lacing System
Easily overlooked, both your lacing system and toe protection plays a greater role in overall comfort. When passing through mountains one generally encounters irregular terrains; boulders, roots, and other potential hazards.
Thus it needs to have added protection for your toe.
You mustn't get your toe injured as it simply increases the risks for infection; provided your toe is one of the first places to face the consequence of any impact.
The toe of your hiking shoe or boot thus needs to be a little tougher than the overall body.
Similarly, a better lacing system is great for better fitting and comfort. Having a poor lacing system means your shoe is prone to loosening.
Nike ACG boots features an impressive lacing system that helps secure a locked-down fit. Together with the tread design and better toe protection, it offers a great uphill grip and durability.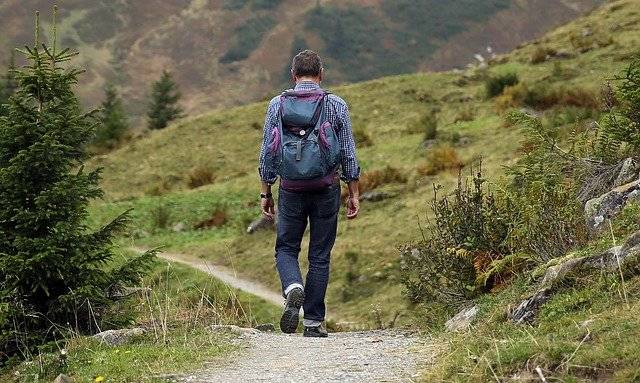 Hiking Boots vs. Hiking Shoes
When looking for footwear to advance mountain trails; there are just two types to go for hiking boots or hiking shoes. While they both have many minor differences; perhaps the biggest point of differentiation is height.
Hiking shoes have a low-top fit, thus they are quite fast, lightweight and excels on smooth mountain trails. On the other hand boots generally, sit above the ankle and are made for rough trails conditions.
A hiking shoe is a versatile solution for better mobility and speed. They are not just lightweight but also easier to clean or maintain. On the other hand, hiking boots are built with protection and stability in mind.
They tend to provide more ankle support and reinforced protection than any shoe.
A hiking shoe is good to have on trails with less steep. But when you are going for real hiking off-trail on uneven grounds; a hiking boot is your best friend in need.
Popular Nike ACG Boots For Hiking
Related Question
Q. Are Nike ACG shoes waterproof?
Yes! These shoes are waterproof. That's great news for people who aren't scared to hike through mud and water. It opens the door to facing harsher weather because you know your're covered.
Besides how nice it is to have warm, dry feet, it's safer and healthier for the skin. Wearing wet shoes and socks makes you more likely to develop blisters.
If they stay on your feet for a significant amount of time they can also cause foot fungus and other issues. So if you're heading out for a long day in the rain or snow, waterproof shoes are a must.
Q. What does ACG stand for in Nike boots?
ACG stands for 'All Condition Gear'. All Conditions' indicates that they can handle ALL harsh outdoor conditions. They're tough, yet comfortable, and made to outlast other shoes.
Nike has been making shoes that can brave the elements for decades.
They're always improving their design. The ACG line is a culmination of what they've learned, what customers are saying, and what makes the best 'All Condition Gear' footwear.
They're high-quality outdoor merchandise is made to surpass its competitors. No matter the weather, temperature, or terrain, these boots are top of the line.
Q. Are Nike ACG boots good for snow?
These are great for snowy weather. If you've ever clung to the rungs of a staircase on your way up or down on a cold, snowy morning, you know how significant it is to be wearing the right shoes.
Those triple-threat rubber soles can grip any surface and help keep you from slipping.
The CDC estimates around a million people have ice or snow-related injuries in the US every year. These shoes are the perfect allies to have in winter weather no matter your lifestyle.
If you're hitting the woods or mountains in snow, however, they're a must.
Also Read,
Do Stiff Cycling Shoes Really Make a Difference?
Does Running Shoes Make A Difference?
Can You Use Clipless Pedals With Normal Shoes?