In every sport, it seems compression arm sleeves are getting popular with time. While watching a triathlon, you might have observed those dapper, black sleeve that your favorite cyclist is wearing.
Maybe during the basketball finals, you noticed that flashy, yellow gear on a player's arm. Those garments are called compression arm sleeves, and they aren't worn for no reason.
Aside from their stylistic looks, they offer health effects that are beneficial to the body during workouts and sports activities. A compression arm sleeve is a kind of apparel or sports gear that is usually made of nylon and spandex. However, some are processed from microfiber or wool.
This thin fabric is expandable and provides a moderate and remedial squeeze to your skin. Its thinness makes it a convenient choice for anyone who wants to wear it underneath a jacket or long-sleeved shirt.
The NBA star Allen Iverson is often credited for starting this sports fashion trend, after using it in one of his games where he had to play with an injury.
Read on to know more about the compression arm sleeves and how they work in helping cyclists, runners, and other athletes in getting their heads in the game.
What Do Compression Arm Sleeves Do? 
Before diving into the exact benefits of arm sleeves in action or how much important is it for a cyclist. Let's find out the most basic question "what does compression arm sleeves do".
It's a modern addition in sport wear that has both medical and performance implications. Originally designed to support and compress affected muscles group during sport activity. It's main job is to aid with the recovery by enabling quick circulation of de-oxygenated blood to the heart.
Further it also helps fight common muscles issues like tightening of muscles, numbness and fatigue. But I have also seen a few wearing them to hide tattoo or simply look professional.
When worn these sleeves promote optimal blood flow to your arm helping regulate your body temperature. Then there are secondary roles to protect against injuries, scratches, or abrasion.
From what I have personally seen so far using compression sleeves helps avoid numbness, pain, and injury. A must for working out with heavy weights or cycling for long distances.
Benefits of Using Compression Arm Sleeves
So what exactly do these sleeves do? What useful effects do they offer? Listed below are the specific reasons why this apparel is recommended by many sportsmen and workout trainers.
1. Supports Blood Circulation
Good blood circulation is crucial for athletes, especially cyclists and runners who travel long distances under the heat of the sun. When you're riding your bicycle, your upper body tends to be stationary.
It's only your lower limbs that are actually moving. The stationary position of your upper body and the applied pressure from gripping the bike handles could cause your hands to feel numb.
This is a sign of insufficient blood flow. Poor blood circulation can also lead to swelling of an injury.
Using a compression arm sleeve can help you overcome these problems. Although it is found externally, it has beneficial effects on your body's internal system.
The light pressure that it exerts on your skin will result in a subtle increase in your arm's blood pressure, thus, speeding up the flow.
A controlled blood flow maintains your heart rate, and a maintained heart rate keeps a modulated supply of blood running throughout your body. This results in more generated oxygen, which is important for athletes who participate in distance sports.
An adequate supply of oxygen improves energy levels that ultimately allows you to have a better performance.
2. Speeds Up Recovery
As its name indicates, compression arm sleeves are primarily used for their ability to press your muscles. Branded kinds of these garments utilize advanced and quality fabrics that are elastic enough to gently squeeze your arms.
This squeezing helps in stabilizing your muscles and, as previously mentioned, provides regulated blood flow. Both of these effects aid in recovery, whether it is from injury or fatigue. The sleeve acts as a bandage or brace that supports your joints and prevents overextension of the muscles.
One thing that you have to be particular about in achieving this benefit is the sleeve's size. If it is too tight, it might impede the flow of blood, which is harmful and disadvantageous for your injury.
On the other hand, if the fit is too loose, it will just slide down, providing no effect at all. It is recommended to choose the right size and best quality of the fabric.
3. Protects Your Skin
Sportsmen who spend hours under the sun are prone to acquiring sunburns. Too much exposure to the sun's rays can even lead to more alarming health problems such as skin diseases and cancer.
The UV rays are harmful to the body. However, athletes can't always avoid them. That is why they use compression sleeves to protect their skin.
These sports apparel cover your skin from UV rays. Many brands use UPF 50+ fabrics in manufacturing them. These kinds of clothing block an impressive 98% of the rays, reducing the risk of penetration.
Aside from the sun's heat, this sports gear can also provide skin protection from scratches and cuts. In case of an accident, it serves as an additional shield against scrapes that might have been more severe.
This advantage does not necessarily apply to runners and cyclists unless they trip or lose their balance and land on the ground.
But for athletes who engage in contact sports, this is a huge help to avoid minor cuts and bumps. The fabric protects them from abrasions, rug burns, and skin rashes that they may acquire from the field.
4. Keeps You Warm
If you feel like riding your bicycle or working out during winter, you don't have to worry if you have compression sleeves. This additional layer offers warmth, but it is still advisable to wear thick outer clothing, especially when cycling outside during the cold seasons.
Compression arm sleeves have similar effects as arm warmers, except that the latter can easily be peeled off when you get too hot.
5. Keeps You Cool
Now, this might sound contradictory to the formerly mentioned benefit, but it's true. This is because compression sleeves could regulate your body temperature in general. Whether it is hot or cold outside, they can be used to help you adjust to the environment's temperature.
Maybe you're wondering how an additional fabric on your skin can keep your body cool. Actually, that is because it is designed to draw away heat-carrying moisture.
During this process, your body temperature is reduced. And instead of losing energy from sweating, it is now conserved for performance.
The "cool" in this subheading also implies the garment's effect on your physical appearance. Since arm sleeves are available in a wide range of designs and colors.
You can select the one that fits with your personality and style. You can match colors with your teammates or pick one which has a symbolic meaning for it.
Whatever color and design you choose, it won't fail to make you look cool.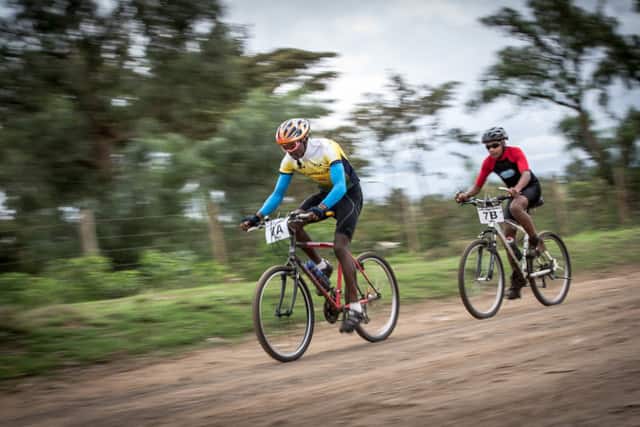 How Important are Arm Sleeves to a Bike Rider?
The importance of arm sleeves for you as a cyclist depends upon your physical condition, and the nature of your typical riding environment. These factors determine how useful the stated benefits of arm sleeves will be in practice.
For instance, if you have suffered arm injuries, you have a greater risk of inflammation and circulatory problems. Riding without arm sleeves can exacerbate these issues and risk new injury. Therefore, arm sleeves are especially important to riders recovering from injury.
Likewise, riders facing extreme temperature conditions will find arm sleeves to be vital due to their protective qualities. Conversely, if you only ride in temperate weather, this feature won't matter to you. In that case, the sleeves will seem less important overall.
Professional cyclists tend to wear arm sleeves for the performance enhancing qualities. You may not be a competition rider, but you would be wrong to think you can't benefit in the same ways.
The more rigorous your ride, whether it be at high speeds around a track, or along challenging off-road paths, the more crucial performance is to your safety. For riders that regularly push themselves to their limits, arm sleeves are an indispensable piece of gear.
Top 3 Compression Arm Sleeves For Cyclist
1. ARMORAY Compression Arm Sleeves for Men or Women
Armoray is one of my favorites when it comes to cycling arm sleeves. With over 5000 positive reviews these are tough to beat when it comes to versatility, protection, and comfort.
Coming in at 69g it's lightweight and breathable making it excel on long rides. With inbuilt UV protection, you never had to worry about the sun again protecting from 98% of harmful rays.
It's tight-fit design helps regulate blood flow around the arm reducing injuries, fatigue and common issues of numbness. Not just that It is made to look good but are very comfortable to have on.
These are made to keep you cooler on most sunny days and equally warm in chilling winter. It's moisture wicking technology stops the sweat from building up, while its quick drying ability makes it neat, dry and easy to wash. I never had any trouble with one of these.
ARMORAY Compression Arm Sleeves for Men or Women: Check Price On Amazon!
2. AoOnZan 6 Pairs Compression Cooling Sun Sleeves
Focused on cooling these AoOnZan cooling compression sleeves will help you fight the sun and the heat in the summer. Its no-slip compression design makes it idle for ladies with thin arms, who usually complain about the slip. With these on you will have 98% less slipping.
You can say it's a bit tight but with just enough compression it does not start to feel too much or cause discomfort. Being light, thin, and smooth it will stay up on arms for hours and feel nice to your body.
These can be great for your everyday bike ride since it's cute, colorful, and comfortable. With one of these stays on, rest assure you get more compliments than expected.
It's anti-UV slick fiber technologies keeps you at 3-4 degrees cooler and protects against most harmful rays. While the thumbhole design ensures you get complete protection.
AoOnZan 6 Pairs Compression Sun Sleeve: Check Its Price On Amazon!
3. New Balance Unisex Outdoor Sports Compression Arm Sleeves
If you are looking for a cycling sleeve that delivers not on price ( Best bet for the buck ) but on quality, look no further than the New Balance Unisex Outdoor Sports Compression Arm Sleeves.
Founded in 1906 Boston the new balance is one of the world's major sports apparel manufacturers that excel in sports gears over time including their quality sleeves.
Made for everyday athletes these are nothing but perfect. Its super-tight elastic fiber helps increase blood flow to your arm. While its silicon grip system holds on to your biceps like a gorilla fist.
So unless you physically remove the sleeve it will never fall off or slip. Extremely lightweight in design these are on the warmer side than what mentioned above; simply put it works better in winter's.
New Balance Unisex Outdoor Sports Compression Arm Sleeves: Check Price On Amazon!
General Disclaimer: This article is for general information only and does not intended to replace an informed medical opinion. You should not use this information to diagnose or treat a health problem. Always consult your doctor before changing your diet, sleep habits, dietary supplements, or a new exercise routine.
Also Read,
How Compression Knee Sleeve Work's & When To Wear It
Is Cycling With A Backpack Bad For Your Back?
Does Cycling Burn Fat or Build Muscle? | Get Answered
Is it OK to do Zumba barefoot? – Learn why Shoes are Required