If you find it hard to select your version of commuter bikes that you can use almost daily, then it's not that much. Here's a detailed guide on the best bikes for commuting in 2021.
Here, we will discuss the advantages of commuter bikes and several features that you must keep in mind before making a purchase.
With environmental concerns at an all-time high, many people are drawn to cleaner modes of transportation, and bikes are the king of green transit.
That said, not all bikes are created equal and a wrong decision can leave you with the wrong bike. A commuter bike is designed specific for your commuting needs.
In this article we will see different types of bikes based on their popularity and ergonomics.
There would be several instances where we will go in-depth on a particular feature and try to clear all your doubts regarding commuter bikes and the benefits they offer while riding.
In the end, all we aim for is that comfort is the first thing to consider before buying a commuter bike. And, your zone may be completely different from others and it's pretty normal. So, without any further delay, let's dive deep into it and discover the best commuter bikes in 2021.
Advantages & Features of Using Commuter Bikes
The commuter bikes are popular for being heavily reliable. These simply designed commuter bikes favor hassle-free day-to-day commuting activities.
They perfectly fit the travel ventures held in intra-city; and are one of the most affordable bikes that provide appropriate value for money.
They are very easy to operate and taking a ride on them is more than just fun.
It is a cost-effective option that not only provides comfort and safety but also promises durability. All credit goes to steel or aluminum frames that make them stronger than ever.
There is enough functional storage space at the rear and front of the bike in the form of fenders and racks. It is quite light in weight and thus provides an awesome riding experience.
The best part is that you can explore several alternate routes and have the freedom to ride to any place without worrying about fuel since it doesn't require it.
It is always easier to find a parking spot for a commuter bike than for a car. The seat and grips are also quite comfortable and help in making your every ride as amazing as you.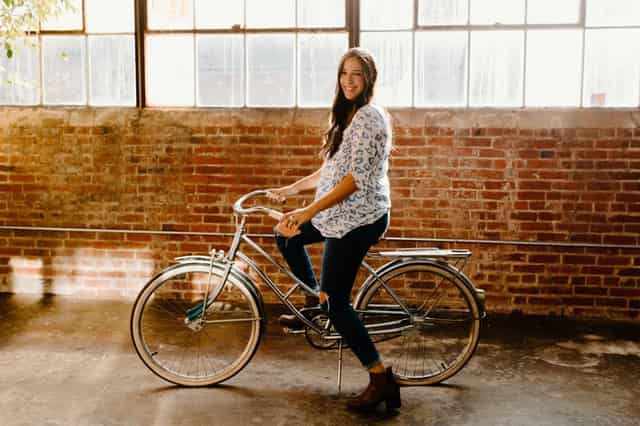 Is Commuter Bikes The Same As Road Bike?
No, there's an obvious difference between commuter bikes and road bikes that can easily be perceived by taking a quick look at them. Road bikes are known for traversing a large distance at a higher speed.
They are fast, occupy less space, and are a good option if you are having a quick ride for refreshment.
On the other hand, commuter bikes are comfortable, easy-to-use bikes that always have fenders attached. You'll have to carry a backpack if you are traveling on a road bike and need to store a couple of items.
That's the major difference between commuter bikes and road bikes.
Although at the end of the spectrum, road bikes are a perfect fit for speed and efficiency while commuter bikes have a sleek design and are good for taking a morning ride with your essentials packed over the fenders. They are heavily comfortable with a soft padded seat.
Overall, both are good at their place, you have to choose according to your requirement.
What Bike Best For Commuting
As we all are born different, we have different preferences. The same applies to finding a commuter bike. There are several types of commuter bikes.
For instance, an average city bike is a geometrical upright with flat pedals and very little gearing. The thin tires and a cozy seat is all that is needed.
Depending upon budget, purpose, priorities, frame, speed, distance, coverage, and maintenance, we have buckled up five types of bikes.
These are Hybrid bikes, city commuter bikes, folding bikes, electric commuter bikes, and fixed gear bikes. Don't get overwhelmed by listening to their names.
Everything is explained as we move through it. So, without any ado, let's dive into it and find the best bike for commuting in today's time.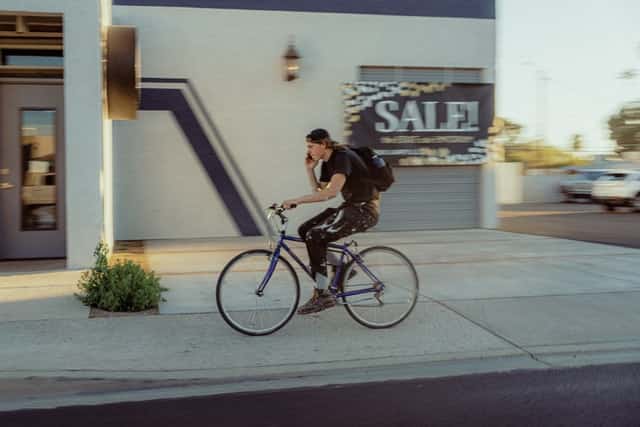 Hybrid Bike For Everyday Commute
As the name says, Hybrid bikes are a hybrid of two types of bikes. These are road bikes and mountain bikes. By having a hybrid bike, you can get the best of both bikes.
They provide a comfortable riding position with upright handlebars along with a padded seat. They are best for short-distance travel and to find errands nearby in the town.
They are ideal for unpaved trails but not enough to handle the rough surfaces. Well, the width of their tires falls in medium range which allows for a decent ride.
They are also called cross bikes. Don't puzzle them with cyclocross bikes. They perfectly serve the purpose of a casual ride. Modern hybrid bikes have aluminum or carbon fiber frames for lightweight and easy handling.
There are several hybrid bikes that have front suspension.
On the other side, there are also the major sections of hybrid bikes that are closely similar to road bikes. They are a perfect choice for a daily commute and weekend fun.
City Commuter Bikes For Commuting To Work
City bikes target ease of riding for short-distance and riding inside the city. They possess several features of hybrid bikes and incorporate them with simplified riding in the city.
Their primary goal is to provide an easy commute to daily travelers.
Their features include styled handlebars with flat position, mudguards, lights, and also the chain guards and skirt guard, especially on the rear wheel.
They come with attached pannier racks so that the rider may keep the luggage and other items in it. City bikes are popularly known as urban bikes.
It gives an upright riding space like a cruiser bike and the size of the wheels is similar to the hybrid bikes. The fun fact is that these bikes are also referred to as Dutch bikes.
It is primarily because there is a very close similarity between day-to-day bikes that are used in Amsterdam and some other European cities that are bike-friendly.
Nowadays, city bikes come with drivetrains and a really wide gearing range.
Folding Bikes For Public Transport
Ever heard of blessing in disguise? Well, foldable bikes perfectly fit into this instance. They are even versatile and the most underrated cycling option.
With increasing population and real estate prices, there are high chances that you may have limited storage space. Other times, you may be commuting on a train, following some of the fight steps, and yes facing the elevators.
Foldable bikes can be a real game chager that can easily be packed and taken along at any place.
As the price range increases, you will get a lightweight foldable bike that would have a lighter frame made up of titanium or even carbon fiber.
Their wheel is usually designed to manage a small space and be light at the same time.
Also, most modern foldable bike fans feel that the smaller wheels outweigh the difference by making it a folding bike that is highly portable. Overall, they are a good option for daily commuters who travel by train or bus and need to have a bike along the way.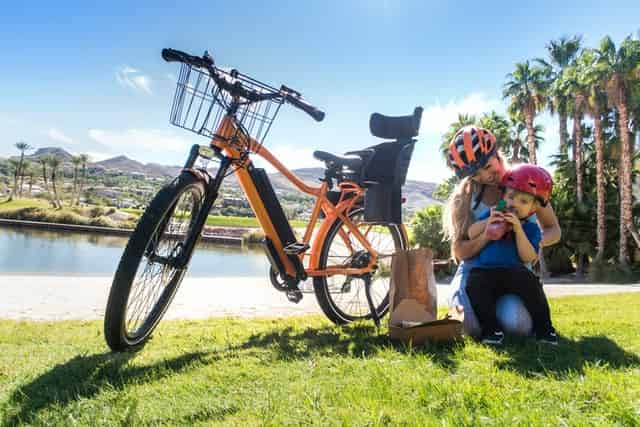 Electric Commuter Bikes For Power-Assist
There are several people who want electric commuter bikes. Well, they are really affordable and one of the most reliable commuter bikes in today's time.
Rather than investing money into any fancy types of equipment and unnecessary little things, an electric commuter bike is a much better option.
The focus is on a high-quality drivetrain. Yes, I understand it's pretty boring at first glance.
But, it's reliable at the end of the day. It will help you in getting all the places wherever you want without too much worrying. Or better say, it will help you in riding involuntarily.
It is an awesome blend of higher ergonomic and cost-effectiveness. The fat tires offer a smoother ride. It is asymmetric but quite easy to maintain the balance.
Here's a kind mention, if you buy an electric commuter bike, make sure that the city laws have allowed using it. There may be times when you will need to get a license for riding an electric commuter bike.
Fixed Gear Bikes For Low Maintenance Commuting
If you want to have amazing pedal efficiency with unlimited control on handling, then having a fixed gear is the best option. The fixed gear commuting bikes have a strong and durable steel frame that is equipped with solid welds.
Their tires are thick in nature. As with other biking options, fixed gear bikes are bound to give you an upright riding position that is going to be really convenient.
They have distinct features that will allow having a plethora of visibility even if you are in traffic.
Being a commuter bike, having a couple of fenders and some extra racks that are required to carry the luggage and other items become very easy.
But, the most important thing that makes these bikes stand out of the crowd is a bearing hub that is completely sealed. It helps to make the bike a perfect fit in all the weather.
Health benefits include helping you with your cardio. Additionally, because of having fewer components, it is very easy to maintain.
Are Mountain Bikes Good For Commuting?
Depends on the terrain. Mountain bikes are indisputable winners when it comes to riding on uneven gravel paths and unpaved trails.
Yes, you can definitely use mountain bikes for commuting if you do not have any issue because of slower speed as it has really broad tires and suspension, which increases the overall weight of the bike as compared to commuter bikes.
At the end of the day, any type of bike which is comfortable and approaches practicability is a clear winner. It depends on you whether you want to handle that extra weight and compromise your speed for its sake.
It is best to get a bike that feels like you want to take a ride again and again on it.
Mountain bikes can also be used for urban riding. All you need to ensure is that there are hard trails and unpaved terrains.
Also, keep an eye on your bike every time you have to go a little far so that it could not be stolen. Other things include hardship in pedaling but it would get resolved once you start using it regularly.
How Much For A Decent Commuter Bike?
There are numerous options available in the market. Finding a decent commuter bike at an optimum task is appearingly a daunting task. The price range is heavily ranging from buying a commuter in hundreds of dollars to making a purchase of thousands dollars.
It may lead to the rise of two cases where in the first case the delusional low rate and unexpected higher rate make you believe that there's no serious difference between any of the bikes.
On the other hand, it may also conceive that spending more symbolises getting better.
But the reality is quite different from it. The optimum range for a decent commuter bike is $500-$1500. Why should you not buy a commuter bike below $500? Quite simple.
It would be heavyweight, less durable, and there would be a lack of decent precision. Buying a bike above $1500 won't give you the best value for money. Yes, you can save a little amount of extra weight and some decent components but it's not worth spending for it.
3 Best Bikes For Commuting, According To Experts
26″ Micargi Men's Roasca V7 City Commuter Bikes
The Micargi Men's Roasca V7 City Commuter Bike is a comfortable and easy-to-use bike that supports up to seven speeds.
It is awesome as a beige city bike, it is completely safe and the performance is also impeccable.
It's because of the manufacturing quality where it is ensured that the bike is perfectly fit for all the men riders by being available in three sizes that favor making an improved decision.
They are 45m, 58cm, and 58cm. The interesting part is that it comes in four different colors as black, midnight blue, grey, and teal. The steel frame is highly tensile and it is rust-resistant.
It helps in increasing the longevity and performance of the city commuter bike. The frame also contributes to a smotter riding experience by handling the bumps and adjusting shocks.
The tires are also good and serve their purpose efficiently when there is a turn. They make sure that the bike is efficiently riding without considering rough, dry, and rolling terrain.
Even the bike is armed with alloy caliper brakes which make sure that the bike is stopped almost instantaneously while stopping it without resulting in any drag.
Micargi Men's Roasca V7 City Commuter Bikes: Check Price on Bikeberry.com
ANCHEER Blue Spark 500W Electric Commuter Bikes
ANCHEER Blue Spark 500W Electric Commuter Bike does a lot more than what it promises. It is efficiently designed by keeping in mind all your needs and requirements in advance.
It has twenty-one-speed gearing combined with 500W.
Additionally, there are five levels to provide pedal assistance. You know the interesting thing is that even a throttle acceleration to a speed of about 15mph is never going to be a huge concern.
Coming to the features of ANCHEER Blue Spark 500W Electric Commuter Bike is that the frame is made up of aluminum alloy which signifies it is a lightweight commuter bike.
There are appropriate brakes at the front and rear sides. The rims are also made up of aluminum and have double walls. It uses a Lithium-ion Battery with 48V 10Ah. The smart meter is LCD compatible with five-speed levels. The battery won't take more than six hours to get fully charged.
The best part is that ANCHEER Blue Spark 500W Electric Commuter Bike can also be used for efficient riding in the rainy season and taking it out for a quick tour.
ANCHEER Blue Spark 500W Electric Commuter Bike: Buy on Ancheer.com / Check Price On Amazon
sixthreezero Explore Your Range Women's Hybrid Commuter
sixthreezero Explore Your Range Women's Hybrid Commuter Bike falls at top in the list of hybrid commuter bikes. It is heavily comfortable to visit the entire city by riding on it.
Be it the random streets, any shaking way out there, or a new undiscovered place waiting for you, sixthreezero Explore Your Range Women's Hybrid Commuter Bike fits perfectly in all the circumstances.
The frame is made up of aluminum and the fork is made up of steel. Even the swift release mounts consist of rear fenders and yes, no front fenders.
The tires are up to mark and have the standard size. Even the crack material is also aluminum and all the combination makes it a lightweight standard hybrid commuter bike.
But do you know the prime reason behind the awesome design of the sixthreezero Explore Your Range Women's Hybrid Commuter Bike? It's speed.
With a firm and comfy seat, it is good for often uphill riding. And it's obvious because hybrid bikes are made to have some characteristics of a mountain bike. Riding on a paved surface or common trails with a moderate pace can give you the best result for almost every day ride.
Explore Your Range Hybrid Commuter: Buy on sixthreezero.com / Check Price On Amazon
Conclusion
So now, we reach the end. We have discussed commuter bikes, their advantages, and several different types of commuter bikes. I know there were some instances where you may feel like what's the best bike for me? Well, the answer is pretty simple.
A commuter bike that is fit for you is one that is comfortable, not too heavyweight, with at least moderate speed, right riding position so that it won't result in any health issues, and last but not least, that is within your budget. Considering all these things, you can go for the one.
Well, commuter bikes are designed for commuting and city travel. If you are the one who needs to ride on a daily basis, then go for a commuter bike instead of MTB.
Also Read,
Top 10 Best Commuter Bikes Under $500 | Review & Comparison
Gravel Bike vs Hybrid Bikes – What Should You Ride?
How Much Does a Bike Weigh? The Importance of Bicycle Weight
Are Specialized Bikes Any Good? Things You Should Know Before Buying!